NEWS
Octomom Implanted With a Dozen Embryos?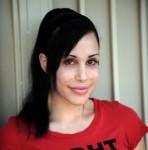 The Medical Board of California's hearing considering to revoke or suspend the license of Dr. Michael Kamrava, the fertility doctor of Octomom Nadya Suleman, is underway. According to a state attorney, Nadya was implanted with a dozen embryos, which is considered unheard of by another doctor and reportedly goes against Nadya's claim of having six implanted.
Article continues below advertisement
According to The Associated Press, Deputy Attorney General Judith Alvarado said during the hearing Kamrava's actions endangered Nadya and violated national standards of care.
Alvarado said the doctor "knew that a 12-embryo transfer was unsafe," in his opening statement.
The American Society for Reproductive Medicine state no more than two embryos are to be implanted in in-vitro treatments for healthy women under 35.
"I cannot imagine any colleague of mine transferring that many embryos," said Dr. Victor Y. Fujimoto testified Monday as an expert witness adding he'd never transferred that many himself.
OK! NEWS: OCTOMOM LIVES WITH "TREMENDOUS GUILT" FOR HAVING 14 KIDS
Nadya, a single mother of 14 now, said Kamrava implanted six embryos and two of them split when she had octuplets.
However, Fujimoto said Nadya requested 12 be transferred, but the physician's job is to decide how many to transfer.
Article continues below advertisement
Kamrava is also accused of failing to refer Nadya for a mental health evaluation before her fertility treatments.
"For me it raises a huge red flag," Fujimoto said. "It's a very unique request for twins after having just had a second child. In my opinion at that point it would have been reasonable to ask the patient or to request a mental health evaluation."
OK! NEWS: OCTOMOM NADYA SULEMAN WOULD LOVE TO DO DANCING WITH THE STARS
Kamrava was kicked out of the American Society for Reproductive Medicine last year, but the group does not have the authority to prevent him from practicing medicine.
Two weeks have been set aside for his hearing to determine whether Kamrava was negligent.