NEWS
Octomom Lives With "Tremendous Guilt" For Having 14 Kids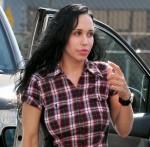 Nadya Suleman says she's haunted by guilt for giving birth to octoplets — when she already had six children — and will live with that feeling "forever".
Octomom welcomed The Oprah Winfrey Show cameras into her home to watch her care for her 14 kids over a crazed 24 hour period, in an episode that aired yesterday.
OK! NEWS: OCTOMOM WILL OPEN UP TO OPRAH WINFREY
Nadya opened up about the difficulty of raising so many children, reports the LA Times, and admitted that she can't give any of the kids enough attention and support, although she said "no couple could" either.
Article continues below advertisement
"I live with a tremendous amount of guilt...and I'll live with this forever," said Nadya, although she said she has never considered giving any of them up to foster care.
OK! NEWS: NADYA "OCTOMOM" SULEMAN COULD FACE FORECLOSURE
Meanwhile, Oprah asked Nadya why she posed in a bikini on the cover of a tabloid magazine. "Let me tell you why: 14 hungry mouths," said Nadya. "I must feed my children."
She said she spends $1,000 a month on groceries, buying 20 gallons of milk, 21 dozen eggs and 35 loaves of bread — all in one week. She also hires three nannies who share shifts throughout the day although Nadya is alone with her children at night.
Article continues below advertisement
She explained she had been "caught-up in a childish desire to have more children" to compensate for being an only child. She was using the children to "fill a void."
The 34-year-old also claimed that she would never do porn or reveal the identity of the father of her fourteen kids. "I feel like they are trying to steal a piece of the situation, exploiting me, disrespecting me as a mother, my children," she said about the offer she received to join the adult entertainment industry.