NEWS
"OctoMom" Will Open Up to Oprah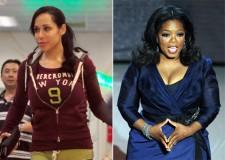 Oprah Winfrey has landed Octomom. Nadya Suleman's lawyer said the octuplets' mother will be a guest on The Oprah Winfrey Show next week to discuss the triumphs and tribulations of raising 14 children!
Nadya's attorney Jeff Czech said that Oprah sent a TV crew to film at Nadya's La Habra, Calif. home last week, according to the Associated Press.
Article continues below advertisement
Nadya also went to an L.A. studio to film a remote interview with Oprah, scheduled to air Tuesday, April 20.
Her attorney said the interview covers "straight talk" about surviving with her family of 14.
Oprah also asks Nadya some difficult questions which her lawyer described as "hardballs."