NEWS
Nadya "OctoMom" Suleman Could Face Foreclosure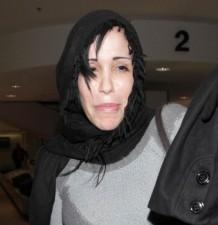 Being a mother of 14 is already a difficult task, and it seems "OctoMom" Nadya Suleman is about to have an even harder time raising her brood... perhaps without a roof over their heads.
TMZ reports that Nadya has until the end of the business day on Tuesday to pay $450,000 she owns on her home, or face a foreclosure lawsuit.
OK! NEWS: I'M DELUSIONAL BUT I'M NOT CRAZY, SAYS OCTOMOM
Apparently she didn't make that $450K payment on March 10 and is behind by $4,139 as well.
Article continues below advertisement
Amar Haddadin, the man who sold Nadya the home, told TMZ he'll give the mom of many just until Tuesday to shell out the cash, as well as interest and attorney's fees.