NEWS
OK! Blog: Anoop Desai's 'Idol' Dish!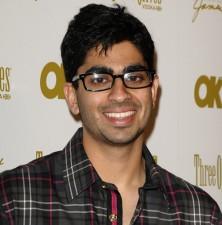 Of the more than one million people across the country who have auditioned for American Idol, only a few dozen know what it's truly like to live the Idol life. And that's why OKmagazine.com brings in the experts, where this week, former finalist Anoop Desai shares his insights on the new season!
Before tonight's results show, we wanted to know — how did the contestants rank up covering the iconic The Rolling Stones last week?
Article continues below advertisement
"For the theme being the Stones, there were way too many slow songs or slow renditions," Anoop said, hoping for higher energy. "The Stones are rock 'n' roll — I would have liked to have seen some contestants stay true to their energy."
OK!'S IDOL ROUNTABLE: ANOOP & DIANA DISH ON RESULTS!
Unfortunately, we had to say goodbye to our first top 12 member last week, Lacey Brown.
Anoop was not surprised that Lacy's time on the Idol stage was short-lived.
"I picked her in my bottom three along with Andrew Garcia and Tim Urban," he admitted. "Lacey just needed more consistent performances. The judges didn't help her out too much either, even when she had good weeks."
David Cook, Orianthi and Ke$ha performed so far on Idol, but who would Anoop like to see next?
"Me... haha," he quipped. "Lady GaGa was amazing last season. I'm lucky to have gotten to see that in person, and I don't think anyone would mind a reprise."
Article continues below advertisement
What artist would Anoop have chosen if he was singing on stage for Teen Idol week?
"Justin Bieber —only half jokingly," he said.
As far as last week's the heated spat between host Ryan Seacrest and judge Simon Cowell (which seemed a little more dirty then their normal banter), Anoop said he found it awkward to watch.
"I wasn't really sure what was happening, and then it was over," he said.
Anoop — who was the sixth-place finalist in last season's American Idol — has been pretty busy since his time on the Idol stage.
The singer is releasing his first single, "My Name," on March 24 (it previewed during New York Fashion Week). The song has a unique sound that mixes heavy Indian influences with pop and R & B.
The single is off his upcoming album All Is Fair, which drops the first week of May!
Article continues below advertisement
Anoop is also involved in a great debate with fellow season eight Idol contestant Matt Giraud. Do you choose to dunk or not dunk your Oreo cakester? (dunking the classic cookie is one thing, but the Oreo of snack cakes is a different story.)
Now through April 5, Americans can choose their side as part of the new Oreo Cakesters Jingle Contest!
So what's the prize? The chance to professionally record the jingle to air on national radio and meet Anoop and Matt!