NEWS
OK!'s Idol Roundtable: Anoop & Diana Dish on Results!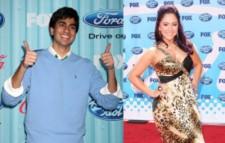 Of the more than a million people across the country who have auditioned for American Idol, only a few dozen know what it's truly like to live the Idol life. And that's why OKmagazine.com brings you Idol Roundtable, where this week, former finalists Anoop Desai and Diana DeGarmo will share their insider insights on the new season.
"Out of the four who went home last week, I was more surprised to see Alex and Lilly leave. I thought they definitely deserved to stay longer," admits Diana of Alex Lambert and Lilly Scott's elimination.
Article continues below advertisement
Diana says she feels judge Kara DioGuardi is taking on a much more "emotional role in the quartet of judges." (Remember last week when Kara cried over Michael "Big Mike" Lynche's cover of "This Woman's Work"?)
OK! NEWS: OK! IDOL ROUNDTABLE — ANOOP & DIANA DISH ON RESULTS SO FAR!
"You can't blame her," Diana says in Kara's defense. "Ellen and the guys are a tad more brash with their critiques so there has to be a bit of give somewhere. Plus, she's human, so tears are natural!
Anoop says he was surprised to see Alex, Lilly, Katelyn Epperly and Todrick Hall leave last week.
"I thought they were four of the strongest on the show, and they added variety," he says.
So who will be leaving the Idol stage next?
"At this point, you can't really say," Anoop admits. "It's all about early favorites, breakout performances and judges' comments."
Article continues below advertisement
However, Anoop says he thinks he knows why some fan faves went home.
"Sometimes people get passive. Because it's so early in the competition, a lot of contestants still haven't solidified their fan bases.
Anoop and Diana both agree that the competition really heats up once "theme" week begins, making it more difficult for the Idol contestants.
"Now that we are getting into the theme weeks, this is where the contestants can either begin to ride this new wave or be sucked into the undertow," Diana says. "Not every week is going to be the best theme for each of the contestants, so it's their job to pick songs that they can make their own so they will be able stand out week to week.
"Luckily, contestants are now allowed to change songs to suit them, unlike in my season; so I am highly interested as to whose artistry will shine through," Diana adds.
Article continues below advertisement
CLICK HERE FOR ALL OF OK!'S AMERICAN IDOL NEWS
Anoop also feels the competition is definitely harder once themes start.
"Sometimes, you're not familiar with the band or the theme, but you're still forced to perfect a song in a matter of days and very few rehearsals," he says. "This is where the stress begins!"
Anoop — who was the sixth-place finalist in last season's American Idol — has been pretty busy since his time on the Idol stage.
The singer is releasing his first single, "My Name," on March 23 (it previewed during New York Fashion Week). The song has a unique sound that mixes heavy Indian influences with pop and R & B.
The single is off his upcoming album All Is Fair, which drops the first week of May!
Be sure to check back with our American Idol panelists next week for all their insights on the Top 12 performing hits by the Rolling Stones!