NEWS
OK! COVER STORY: Kourtney Kardashian's Pregnancy Panic!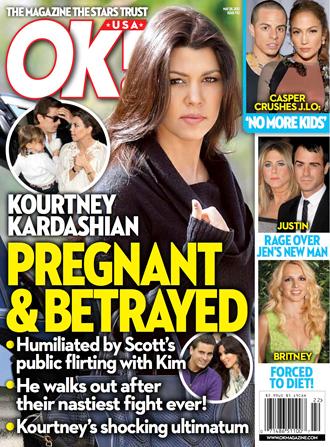 A heavily pregnant Kourtney Kardashian smiled as she greeted guests arriving for her baby shower at Stonewalls Restaurant at The Woods in Riverhead, N.Y., but inside she was seething.
OK! NEWS: SCOTT DISICK PARTIES WITHOUT KOURTNEY KARDASHIAN ON MOTHER'S DAY
Her fiance, Scott Disick, 29, had arranged the April 29 party for 60 guests in Kourtney's honor (the first of two baby showers planned to welcome Kourtney and Scott's baby girl into the world), but instead of celebrating along with her, Scott spent the day hiding in another room with a bunch of his buddis.
Article continues below advertisement
It's hard to blame him. The 33-year-old reality star has been having a very tough time emotionally during her second pregnancy, swaying unpredictably between tears, anger and outright panic, says an insider, who adds that Scott has been bearing the brunt of her mood swings.
OK! NEWS: EXCLUSIVE BABY ANNOUNCEMENT: KOURTNEY KARDASHIAN IS HAVING A GIRL!
In a recent show of temper, Kourtney snapped and accused Scott of publicly humilitiating her by flirthing with younger sister, Kim, 31, (who was conspicuously absent from the party, opting instead to attend the White House Correspondents Dinner in Washington, D.C.)
Kourtney used to encourage Scott to be kinder and friendlier to her sisters, but in her hormonal state, everything upsets her. This time, her suspicion stemmed from an evening of fun at the opening of Scotty's New York City restaurant RYU on April 23. He and Kim chatted a little too closely and a little too long for pregnant Kourtney.
FOR MORE ON KOURTNEY, PICK UP THE NEW ISSUE OF OK!, ON SALE NOW!