NEWS
OK! COVER STORY: 'Twilight' Stars Robert Pattinson & Kristen Stewart: Having a Baby!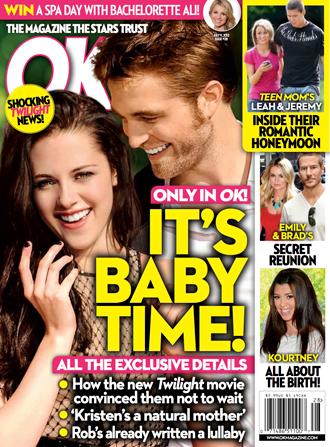 Article continues below advertisement
"Breaking Dawn 2 changed them and made them realize it's something they're ready for sooner and they thought. They've known for a long time that they wanted kids, but always thought of it as something they would do down the line — but then they shot this movie and they started imagining being parents together," a source closes to the couple tells OK!. "The movie really awoke something in both of them."
Both method actors, Rob and Kristen say they went really deep into their characters for the movie, exploring every nuance of being parents. These sentiments clearly carried over into their own lives, sources confirm.
"In rehearsals, they would talk a lot about having a baby and all of their feelings about what sort of parents they'd like to be," an on-set source tells OK!. "And then when it came time to shoot, they just went for it and really became her parents, even though the girl playing their daughter, Mackenzie Foy, is only 10 years younger than Kristen. Bill Condon, the director was one of the first to notice how maternal Kristen is. And it wasn't just Kristen — Rob was so protective of Mackenzie. He totally jumped into the daddy role."
Article continues below advertisement
FOR MORE ON ROB AND KRISTEN, PICK UP THE NEW ISSUE OF OK!, ON SALE NOW!