NEWS
OK! EXCLUSIVE: Adam Lambert Talks Touring, 'American Idol' & Bieber Fever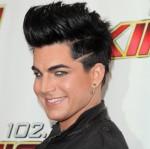 What's Adam Lambert been up to lately? Well, he's played mentor on American Idol, is getting ready for his June tour and is jumping on the Justin Bieber fever train! But one thing he hasn't been doing is fighting with Kris Allen.
OK! GALLERY: ADAM LAMBERT ENTERTAINS HIS LOOK-A-LIKE FANS
It's been a year and American Idol fans are still trying to create a rivalry between Adam and Kris.
"It's so old," Adam told OK!. "If there was ever a rivalry it would have been last year and that wasn't the case. He and I get along so well. We're so different."
Article continues below advertisement
"People can try and pit us against each other, it's never going to happen," he said. "We really respect each other. So, they can keep dreaming!"
CLICK HERE FOR ALL OF OK!'S AMERICAN IDOL NEWS!
Instead of picking fights, Adam's been making music!
"We've been rehearsing, putting it together," Adam said of his June tour, of which he said he'll be playing mostly songs from his new album plus a few covers. "I did Wango Tango, which is kind of like a great warm up for some of the numbers I have on the tour. We're in the midst of it, in the creative process. It's really fun. I met with my musical director/guitarist Monte and my creative co-director who I'm working with and we kind of came up with the running order through line"
"I would definitely say my theatrical past and sensibility are definitely being put into play," he explained to OK!. "I wanted to create like a story through the music, even if it's loose and it's not super clear, I wanted it to make sense to me and my people. So that when performing these songs, there's an emotional motive."
OK! VIDEO: THE WORLD REALLY DOESN'T REVOLVE AROUND JUSTIN BIEBER
While Adam was at Wango Tango, he didn't manage to catch Justin's performance, but he may have caught Bieber fever!
Article continues below advertisement
"I have to say I'm sorry I missed it," Adam shared. "I met him before at a couple radio shows, he's a really nice kid. He's really friendly and he's funny. He has a really good sense of humor. I missed it, I had been working all day and I was actually really tired after my performance and I went home."
But as for what he thinks of Bieber spreading the fever?
"Good for him. That's cool," Adam told OK!. "He's obviously worked really hard. I know adolescent girls are loving him. Good for him."
OK! NEWS: AMERICAN IDOL RECAP — ADAM LAMBERT MENTORS ELVIS NIGHT
But Adam deserves some praise of his own. for acting as a mentor this year on Idol.
"That was great. I was so honored to be asked," he explained. "I think that at the end of the day, I was like, oh wow, I'm just getting started. So, it is a little strange that I'm going on to mentor, but I think that the strength of that moment is that I know exactly where they are."
Article continues below advertisement
"I was there a year ago, so it was for me to put myself in their shoes. Whether or not it was captured on camera, I did give them a lot of advice based on that experience. Definitely telling them breathe, just relax," Adam laughed. "I know it's stressful, but it all pays off. One of the things that I don't think they captured on camera, but one of the things that I did communicate to them was that you can be successful on Idol, you can have this amazing experience, the big transition is the real world of music and it is different."
"One of the things I learned is that you can be very celebrated doing other people's music on a show like Idol, but having your own music on the radio is a whole different world," he explained to OK!. "You know, the politics of radio are tricky and you kind of have to figure out what your sound is, how to make it and it's a lot of work. I think that's one of the things that Idol's need to keep in mind that if they want this as a career to be prepared to devote your entire existence for a couple years, at least."
Article continues below advertisement
CLICK HERE FOR ALL OF OK!'S ADAM LAMBERT NEWS & PICS!
Is Adam worried about the fate of Idol after Simon Cowell leaves?
"I mean, I think people will definitely miss Simon. I think at the end of the day it's really about the contestants," Adam said. "I think that's why people turn in every week. They get invested and so I think it will be fine."
As for Simon's final season, Adam still unsure who he thinks will win.
"I don't know, I don't know what the audience is going to be. I think I'm leaning more towards Crystal Bowersox," Adam admitted to OK!. "I like her attitude, a rebellious, anti-establishment type energy."
Reporting By Rachel Levine