NEWS
OK! EXCLUSIVE: Audrina Fights Back!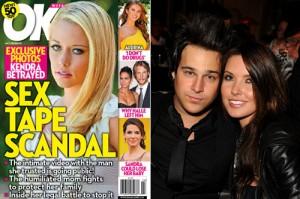 As Audrina Patridge shoots her sixth and final season of The Hills, she's become a household name at 25, with her own reality series slated for next year. She's also in a solid relationship with singer Ryan Cabrera, 27. Life's good. Which is why Audrina was shocked — and steamed — over a recent tabloid cover story claiming that fame has "destroyed her life."
Audrina sat down with OK! to set the record straight and dish on frenemies Spencer Pratt and Heidi Montag — as well as her ex Justin "Bobby" Brescia — and the family that helps keep her grounded.
Article continues below advertisement
OK! NEWS: AUDRINA PROMISES 'LOTS OF LOVE TRIANGLES' THIS SEASON ON THE HILLS
So, how did you feel when you saw that fake tabloid headline?
What really hurt me was the title — because I have not been destroyed by fame whatsoever. So, when I saw the magazine, I was like, "What?" Sure, the show has brought fame into my life, and I'm grateful. I've met so many talented people; I get to be part of so many award presentations and other events. It's so much fun. Of course, fame has its up and downs, but at the end of the day, I know who I am. My family and friends tell me I haven't changed a bit.
That cover story also mentioned drugs; casual readers could take it to mean you're a user.
No, I don't do drugs. According to the article, you've replaced insecurities about your body with arrogance. Is that true? Yeah, it says according to "a pal," I think I have a "bangin' body." Laughs Who is this so-called pal?
I'm the last person ever to say those things about myself. I don't go around bragging. I grew up by the beach, in Orange County, always by the pool and in the sun. I'm always the first one to get into a bathing suit and not even think twice because I just don't care about what other people think. This is me and, like, whatever.
Article continues below advertisement
It really does seem like you're grounded.
I have my crazy L.A. life, but as soon as the cameras are done, I go back to my real, balanced life. When I'm done filming a scene, I always call my mom or my sister and vent, or just talk. I'm very close to my family; I speak to my parents two or three times a day.