NEWS
OK! Exclusive: Brit's $6,000 Hairdo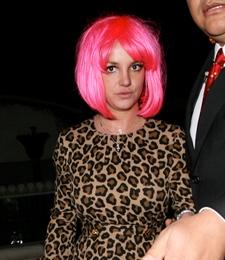 It's time for Britney Spears to say goodbye to that neon pink fright wig she so adored wearing before her court-ordered hospitalization. The pop princess is getting some fake hair — maybe to go with that fake British accent?
To add a little length to her tired tresses, which haven't been the same since the infamous head-shaving incident of 2007, Brit requested some new extensions be put in by her stylist, Kim Vo.
Article continues below advertisement
And this lock-lengthening comes at a pretty steep cost. While he won't name the number on this specific price tag Vo reveals to OK! that, "a house call for new extensions can be up to $6,000."
But unlike some celebs who save their millions by using their fame to get free cuts, colors and styles, Vo tells OK!, "We will be sending her a bill."
Maybe Brit could auction off that pink wig on eBay!