NEWS
OK! EXCLUSIVE: Casey Aldridge Buys Jamie Lynn Spears a Ring!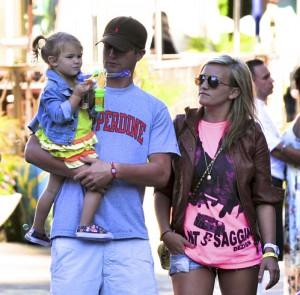 Britney Spears may not be the only one trying to convince Jamie Lynn Spears to tie the knot, her boyfriend Casey Aldridge has already bought a ring!
OK! GALLERY: JAMIE LYNN SPEARS & FAM BOND WITH CASEY ALDRIDGE
"They're back together, they've been together about two or three months," a source close to the couple tells OK!. "They broke up, departed ways, sold the house, and now they're both in Nashville, living together."
Article continues below advertisement
Jamie Lynn probably couldn't stop talking about the idea of a double wedding with her big sister and pop princess Britney because she's already been given a ring by Casey!
"I understand he's given her a ring," the source added. "Haven't heard about a date or if they've decided on that, but he's given her a ring. Of course, when you've got money, I don't know what a ring means."
OK! COVER STORY: INSIDE JAMIE LYNN & BRITNEY'S DOUBLE WEDDING!
And Casey is really making an effort to make things work with Jamie Lynn as well as their two year-old daughter Maddie.
Jamie Lynn "broke up with that older man, and Casey followed her up to Nashville. He sold what little furniture he had," the source close to the couple explained to OK!. "From everything I can tell, they're doing fairly well right now. He's looking for a job and being the nanny, taking care of the baby."
Article continues below advertisement
OK! GALLERY: BRITNEY & JASON SHOP IT OUT IN SUNNY CALI
They're already on their way to being one big happy family!
"She's a cute little thing, real sweet little baby, healthy little sucker," the source said of their daughter and the couple is ready for a fresh start.
Even though Casey is two years older than Jamie Lynn, the source tells OK!, "She seems to have grown up and matured more than he has. She's got a career in Nashville, and he's looking for a job, but I think they're doing OK. She's trying to kick off a music career, maybe something more of a country style."