NEWS
OK! Exclusive: Howie Dorough's Bachelor Party!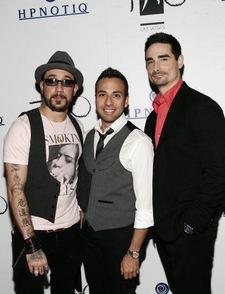 Less than a month away from his Orlando wedding to longtime sweetheart Leigh Boniello, Backstreet Boy Howie Dorough enlisted his brother, Johnny, bandmate AJ McLean and a crew of friends to throw him one last bash in Las Vegas.
"My brother just got married about a month and a half ago and I did his bachelor party maybe two months before that so I kind of got a little of an idea what I'm kind of in store for," Howie explained to OK!. "But he's got a bit more rowdier friends than mine. I'm excited about it. It's an American tradition. It seems like Vegas is the ultimate place to have a bachelor party."
Article continues below advertisement
The 34-year-old swears that his lady doesn't mind his boys weekend on the town. In fact, she packed his bags for him! "The ongoing joke is, I wonder what's actually going to be in the bags — if the clothes are going to be cool or the worst clothes ever for me to be seen in. She's great," he said.
Leigh joked, "It's awesome. I'm jealous. I wish I could tag along. You never know, I may show up. I told him he may not know that I'm there."
Meanwhile fellow Backstreet Boy AJ McLean thinks his friend is making the right decision by getting married. He fears his life could be in jeopardy if he doesn't! "It's high time for them to get married," he added. "She comes from a strong Italian background so I think if they didn't get married he would probably have a hit out on him."
But what does the bachelor really think of finally taking the plunge and settling down? Mixed, but generally excited. "Kevin Richardson, one of the guys in the group, had mentioned something when we were all talking like, You never know, this may be girl Howie marries,' and I remember for the first time hearing that and I was like, 'Wow, I actually could see that.'"
We wish these two the best!