NEWS
OK! EXCLUSIVE: Jen's Best Beauty Tricks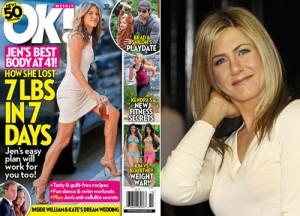 Jennifer Aniston looks more fabulous at 41 than she ever did before, but it's not without the help of some beauty tips!
OK! EXCLUSIVE: JEN'S FUN WORKOUTS
Hair: "The key change in Jennifer's look is highlights," says Michael Canale, co-founder of the McMillan Canale Salon in Malibu, Calif. "These days I'm doing more of them and they're brighter. We've moved toward a more natural looking color, with a mix of both blonder and sandier tones that work really well with her skin tone. It's all about achieving that perfect tone of sandy blonde. It enhances her California gir appeal and intensifies her eye color."
Article continues below advertisement
OK! GALLERY: JENNIFER ANISTON — HOTTER THAN EVER!
Skin: Jen alternates weekly between seaweed and oxygen facials. Says a pal, "Jen says it improved her skin's elasticity and keep it supple." According to another pal, Jen's open to Botox injections. "She would never Botox her face frozen, but she is thinking about preemptive strikes." Jen's even admitted, "I could do Botox. These lines are getting deeper, but when I tell you what's happened to me, these lines are about living."
OK! COVER STORY: JEN'S BEST BODY AT 41 — HOW SHE LOST 7 LBS IN 7 DAYS!
Lips: Reports have suggested that Jen has used cosmetic plumpers, but a source tells OK! they're few and far between. Instead, "Jen puts some sugar and a little bit of water on a toothbrush and scrubs her lips for about a minute. She says it's better than anything a plastic surgeon can accomplish.