NEWS
OK! EXCLUSIVE: Jen's Raw Food Cleanse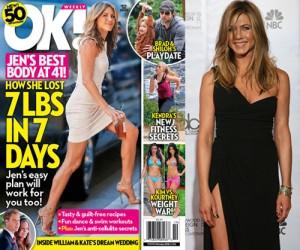 Before heading off to Hawaii in April to film her new flick, Jennifer Aniston went on a strict diet for a bloat-free, super svelte frame!
OK! EXCLUSIVE: JEN'S FUN WORKOUTS
Breakfast: Jen enjoyed healthy smoothies. Try it: Freeze three cups of organic watermelon chunks. Blenc with two and a half cups unsweetened almond milk.
OK! COVER STORY: JEN'S BEST BODY AT 41 — HOW SHE LOST 7 LBS IN 7 DAYS!
Lunch: Jen ate soup pureed with dandelion greens, spinach and arugula. Another lunch idea is not pate: Blend a zucchini, ginger, garlic clove, half a cup raw agave, half a cup uncooked soy sauce, lemon juice, cayenne and onion. Grind a cup each of pumpkin and sunflower seeds and almonds. Mix together.
Article continues below advertisement
OK! GALLERY: JENNIFER ANISTON — HOTTER THAN EVER!
Dinner: Seaweed salad revs the metabolism and may help dissolve fat deposits. Another organic option: Blend lemon juice, a garlic clove, a quarter cup olive oil and sea salt and toss with a salad of one bunch chopped parsley, a diced tomato and half a white onion, diced.
For more great recipes from a raw food expert, check out kimberlysnyder.net.