NEWS
OK! EXCLUSIVE: Joe Simpson's Furious Call to John Mayer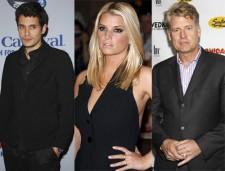 Jessica Simpson may have been hurt by John Mayer's shocking revelations about their sex life in the pages of Playboy magazine. But it was her father, Joe Simpson, who really wanted to teach the loose-lipped singer a lesson.
OK! NEWS: JESS TURNS TO ASHLEE AMID JOHN MAYER SCANDAL
OK! has learned that after hearing that his daughter had been humiliated by her ex's crude disclosures, he made a furious telephone call to the Battle Studies star.
Article continues below advertisement
"Joe took it upon himself to call John up directly for a 'man to man' discussion," the source says. "Joe didn't tell Jessica ahead of time because he knew she'd object."
"The conversation was pretty one-sided," the source explains. "Joe told John that he best not even think of uttering Jessica's name again."
So how did John — who described Jess as "sexual napalm" in the interview — take the call?
"John put up a feeble defense – he tried to reason with Joe that he was praising Jessica, not insulting her," the source reveals. "But no father wants to hear from an ex-boyfriend about how hot his daughter is in bed — and Joe told John as much."
FOR MORE ON JESS & JOHN, CHECK OUT THE CURRENT ISSUE OF OK! ON STANDS EVERYWHERE!
"Joe told John to stay away from his family and man-up and apologize for his comments," the source adds and apparently John did try and apologize.
"John did email Jessica and tell her he was sorry if the interview offended her," the source explains. "But regardless of whether Jessica is willing to forgive and forget – Joe Simpson isn't ready to make amends. He's holding a massive grudge against John."
"But there's no reasoning with Jess' dad," adds the source. "Joe didn't like John when Jess was dating him and likes him even less now."
"John lacks a filter, and while that trait may accrue him press and amuse some people, it hasn't endeared him to Joe Simpson!" says the source.
Reps for neither John, Jessica nor Joe had a comment about this story.