NEWS
John Mayer on Jen Aniston & His Jessica Simpson Addiction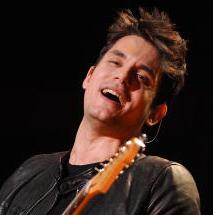 John Mayer may not have posed naked for Playboy, but he definitely revealed himself! In a recent interview with the magazine, the singer opens up about past relationships with Jessica Simpson and Jennifer Aniston, but interrupted the interview to clarify, "I love Jen so much that I'm now thinking about how bad I would feel if she read this..."
OK! NEWS: JOHN MAYER: I WRITE A LOT OF DIRTY TEXT MESSAGES TO GIRLS
Article continues below advertisement
"I'm very protective of Jen," John told Playboy (link could be NSFW) about why it's important for people to know his song "Heartbreak Warfare" isn't about Jen.
Does he still love her?
"Yes, always," he admitted. "I'll always be sorry that it didn't last. In some ways I wish I could be with her. But I can't change the fact that I need to be 32."
OK! NEWS VIDEO: JOHN MAYER DONATES SONG & $500K TO HAITI
In an acceptance speech Jennifer gave last June for an award from Women in Film she talked about how her life mirrors her films. She then asked the audience if anyone had "a project titled Everlasting Love With an Adult, Stable Male," which John also suspects was a reference to him.
"I imagine I've got something to do with that. Parts of me aren't 32," he explained. "My ability to go deep with somebody is old soul. My ability to commit and be faithful is old soul. But 32 just comes roaring out of me at points when I don't see it coming. I want to dance. I want to get on an airplane and be like a ninja. I want to be an explorer. I want to be like The Bourne Identity. I don't want to pet dogs in the kitchen."
Article continues below advertisement
"For a long time I was asking, 'What's wrong with me?' I spent hundreds and hundreds of dollars on therapy for people to say, 'Nothing is wrong.' I had seen splitting up with her as akin to burning an American flag," he said. "Do you know what I mean? I considered myself a villain."
OK! NEWS: JOHN MAYER ADMITS HE'S NOT OVER JEN, MASTURBATES A LOT
In August 2008 John said he had ended the relationship "because I don't want to waste somebody's time if something's not right."
"It really, really upset her," John confessed. "I wanted to take responsibility for having ended it because I saw it as such an offense. But a lot of people felt I was saving face. This would serve to begin the period of my life I'm just exiting, when love made me feel guilty and people called me a rat, a womanizer and a cad."
"Wouldn't a womanizer have dated more than two girls in two years?" he asked.
Article continues below advertisement
OK! HOT GALLERY: JOHN MAYER MAKES COLORFUL MUSIC IN LONDON
So how many women did John sleep with between the eight-month breakup before getting back together with Jen in 2009?
"I'm going to say four or five," he admitted. "No more."
"But even if I said 12, that's a reasonable number," he added. "So is 15. Here's the thing: I get less a** now than I did when I was in a local band. Because now I don't like jumping through hoops. It's been so long since I've taken a random girl home. I don't want to have to submit myself for approval. I don't want to audition. I'd rather come home and edge my s**t out for 90 minutes. At this point, before I can have sex I need to know somebody. Unless she's a 14 out of 10."
OK! NEWS: JOHN MAYER BRAGS HE COULD SLEEP WITH ANY OF HIS FANS
But, he wouldn't say that by being 32 he was too immature for Jen.
"No, the actual day-to-day was fantastic," he said. "I have to explain this so people don't say, 'Sure, you're 32, and you want to f--k other chicks.' If you say I'm not adult and stable, it sounds as though I'm someone who's watching football and playing Xbox. I have this bond with infinite possibility — when I go out to dinner, I bring another shirt, a flashlight, a knife, a hard drive, a camera. It's not like I wanted to be with somebody else. I want to be with myself, still, and lie in bed only with the infinite unknown. That's 32, man."
Article continues below advertisement
Before Jen, there was Jess that seemed to set a spark in the paparazzi's interest in John's dating habits.
OK! NEWS: DID JOHN MAYER COME BETWEEN THE TWO TAYLORS?
In 2006 John began dating Jessica Simpson, but didn't know that meant he'd be stalked by the paparazzi.
"It wasn't as direct as me saying, 'I now make the choice to bring the paparazzi into my life.' I really said, 'I now make the choice to sleep with Jessica Simpson.' That was stronger than my desire to stay out of the paparazzi's eye," John shared. "That girl, for me, is a drug. And drugs aren't good for you if you do lots of them. Yeah, that girl is like crack cocaine to me."
OK! HOT GALLERY: TAYLOR SWIFT AND JOHN MAYER'S NYC DINNER DATE
So, was he addicted to Jessica?
"Sexually it was crazy. That's all I'll say," he answered. "It was like napalm, sexual napalm."
But, he never thought he would be the type of guy who would date Jessica.
"That's correct. There are people in the world who have the power to change our values," he explained. "Have you ever been with a girl who made you want to quit the rest of your life?"
OK! NEWS VIDEO: JOHN MAYER TALKS RELATIONSHIP WITH ELLEN
"Pardon me for interrupting," he added. "I love Jen so much that I'm now thinking about how bad I would feel if she read this and was like, 'Why are you putting me in an article where you're talking about someone else? I don't want to be in your lineage of kiss-and-tells.'"