NEWS
OK! Exclusive: Kim Zolciak Backs Down On Assault Charges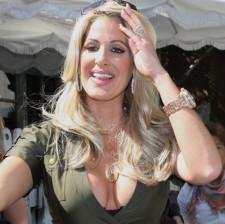 As OK! reported, Kim Zolciak last week vowed to press charges against her fellow Real Housewife of Atlanta, NeNe Leakes for allegedly assaulting her.
Now she's made a complete U-turn, telling OK! that she no longer wants to go through with the case — just one day after admitting that she hit NeNe during the scuffle.
"I don't have to press charges to prove a point to America," Kim told OK! exclusively. "I hope NeNe in her heart she knows she made a mistake. She doesn't have to publicly apologize — I'm sure it eats at her. "
Article continues below advertisement
Kim had said she'd held off from having NeNe prosecuted for the alleged April incident because she had hoped her former best friend would apologize for allegedly "choking her out."
But when NeNe publicly denied to claims, Kim said she would take the matter to the court room.
Now, Kim tells OK! that she's backing down so as not to rock the boat.
"She has her family, I have a family, we're on a successful show, and I'm going to try to be the better person," she said.
But could it be something to do with yesterday's admission that she "slapped NeNe's finger out of her face"? It looks like we may now never know...