NEWS
OK! EXCLUSIVE: The Last Word with Lara Spencer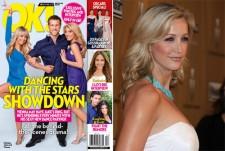 Lara Spencer, the host of The Insider, talks to OK! about her role models, getting recognized and giving back rubs (to her kids!)
OK! NEWS: ASHLE SIMPSON-WENTZ'S LAST WORD OUTTAKES
Last Time I Lied
Last night, when I told myself the cupcake I was eating was low fat.
Last Time I Laughed
Playing pool with my husband and son last night. My 8-year-old Duff is a shark!
Last Time I Felt Starstruck
Diane Sawyer and I have been friends for many years. But every time I talk to her, I'm awestruck. She's graceful, smart and sophisticated. A true role model.
Article continues below advertisement
Last Time I was Mistaken For Another Celebrity
People tell me all the time that I look like...me! I'm always like, "Really? But isn't Lara Spencer like 25?"
OK! EXCLUSIVE: THE LAST WORD WITH JENNIE GARTH
Last Date Night With My Husband Journalist David Haffenreffer
Every Saturday we play mixed tennis with other couples, then he and I go to dinner alone. It's something I look forward to all week.
Last Time I went Grover Shopping
My husband usually does it — for two reasons: I go to work at 4 a.m. and, well, I can't cook!
Last Precious Moment With My Kids
My favorite moment is bedtime. Reading together, talking quietly in the dark and then rubbing their backs till they fall asleep. Nothing better.
CLICK HERE FOR ALL OF OK!'S LAST WORD INTERVIEWS!
Reporting By Valerie Nome