NEWS
OK! EXCLUSIVE: The Last Word With Miranda Lambert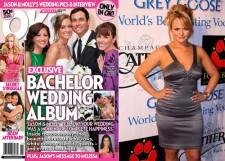 "My dogs are my life," Miranda Lambert tells OK! in an exclusive interview. The country singer, 26, talks furry friends, fried foods — and phoning boyfriend Blake Shelton!
Last Time I Cried: Probably when I went to see wounded warriors at Walter Reed Army Medical Center. I didn't cry in front of them,
but I did have little tears after I got back. It was very overwhelming and very emotional.
Article continues below advertisement
Last Time I Lied: Oh, probably about 10 minutes ago. Just little white lies, though. They don't hurt anyone laughs.
Last Thing I Bought: I think it was an Otis Redding song on iTunes laughs. I don't remember which one it was. It was one of those late-night iTunes, had-a-few-cocktails buying sprees.
Last Time I Was Angry: Yesterday — directed at Blake. It was about not answering the phone. You know how guys are. They get busy and don't answer. I'm like, "Hello! Girls want to talk on the phone."
Last Indulgence: Another pair of William Rast jeans. They're expensive, but they look great.
Last Dream: I dreamed last night about my dogs.I always dream about them. My dogs are my life!
Last Food I'd Like To Eat Before I Die: Chicken-fried steak, mashed potatoes and extra gravy. It's just good old Southern-fried, bad food. Good bad laughs!