NEWS
OK! Exclusive: Learn Kristi Yamaguchi's Plans for the Winter Olympics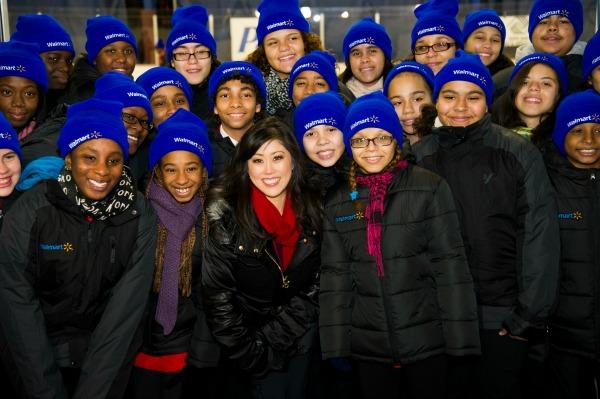 There's something about Olympians that will reduce even the most jaded person to a sack of sentiment. So it's no surprise that given the opportunity to hit the ice with Olympic figure skating champion Kristi Yamaguchi, one's inner 12-year-old weeps. I hung out with Kristi last week while she skated with the Kips Bay Boys & Girls Club in the Bronx. Procter & Gamble and Walmart made the event possible, with Walmart.com donating new hats, coats, and skates to all the kids. Read on for my chat with Kristi!
Article continues below advertisement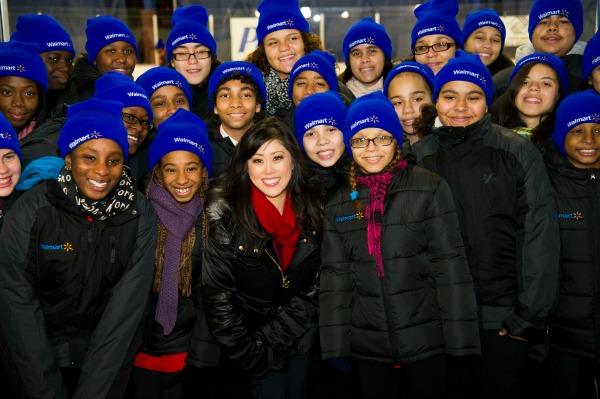 OK!: What was your favorite part of today?
Kristi Yamaguchi: I love going on the ice and skating with the kids, seeing their expressions. Maybe they've done it once or twice, but they're not sure, and you see them a few minutes later and they're a little more comfortable out there. It's always fun to share a passion of mine with the kids.
OK!: You've had a charity for years now for after-school programs, right?
KY: Yes, we've done after-school programs and we're now focused on childhood literacy, so implementing reading programs in the schools. It's been a lot of fun, great work, but we're putting our stake in the ground there and hopefully we'll move the needle.
OK!: The Winter Olympics are coming up. What are your plans? Are you going?
Article continues below advertisement
KY: I will be going to Sochi. I'm the Digital Ambassador for the U.S. Olympic Committee, so I'll be doing a lot of online stuff and social media.
OK!: What's your favorite sport to watch in the Winter Olympics?
KY: Ohhh, aside from skating? I love watching short and long track speed skating. You don't see it every year, so when the Olympics comes along it's a special thing to watch. It's amazing to see them compete. I think hockey's always fun, I'm a big hockey fan. The rivalry with the US and Canadian team, it's always a battle. The Canadians won in Vancouver, so maybe we'll take it this year.
OK! News: Dominique Moceanu stopped by to discuss her explosive book about life as an Olympic gymnast.
OK!: What is the biggest misconception about post-Olympic life, for a champion like yourself?
KY: The misconception is, oh, you're an Olympian, you can cruise through the rest of your life. There's a big transition—as an athlete, you've had a singular focus your whole life, and you've only had to worry about yourself and being ready for competition. It's about finding your way after the Olympics, finding other passions.
Article continues below advertisement
OK!: You have two young daughters. Are they skating?
KY: The older one wants nothing to do with skating. laughs But the younger one does skate, she goes a couple of times a week and it's still recreational at this point and I'm not pushing her at all. It's fun to watch.
OK!: Would you ever push her to go professional? Would that be fun for you?
KY: I wouldn't push her, but if she said to me, 'Mom, this is my passion,' then I would support her. I love the sport and appreciate everything that came along with skating. I know what it takes, so I know she'd absolutely have to love it to do it.
OK!: It's the holiday season, so I was wondering if you guys have any special holiday traditions?
KY: The holidays are so special, especially with young ones. We get a tree every year, and we get everyone involved in decorating it. We never have a pretty Christmas tree laughs! A lot of ornaments tucked into one area. But it's, you know, our family tree, so it's special. And leaving cookies out for Santa, making sure they're the right ones he likes.
OK!: Which kind does he like?
KY: The Mrs. Claus cookies. There's a book we have that talks all about the North Pole and Santa, and Mrs. Claus has a cookie recipe. laughs
What's your favorite sport to watch during the Winter Olympics? Do you like figure skating, too? Do you remember watching Kristi during her hey day? Tell us in the comments below or tweet us @OKMagazine.