NEWS
OK! EXCLUSIVE: Lindsay Lohan: "Rehab Was a Vacation"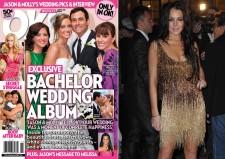 Her life has calmed down a bit since her 2007 bad-girl heyday, when she attended three different rehab centers in 10 months, but Lindsay Lohan, 23, still emits a dangerous vibe in front of a camera. "It's part of who I am," she tells OK! at an exclusive photo shoot. Despite the darkness that still lingers, Lindsay insists she's learned from her mistakes and has put her troubled past firmly behind her.
Article continues below advertisement
What's the most outrageous thing you've ever read about yourself?
That I overdosed and I was dead. I woke up in the morning and I was like, "Really? That's funny because I'm right here." It's a terrible thing to say. I laughed because it was so absurd.
OK! HOT GALLERY: LINDSAY LOHAN BREEZES OUT OF BARDOT
Do you feel like there was too much attention placed on your partying?
The thing is, it wasn't as crazy as people have said. I was 18 and 19. The only thing that hurts me about it is that I really do love making movies. I love acting. A lot of things that were said overshadowed what I got into this industry for and that rankles me.
OK!'S RED CARPET CONFIDENTIAL: LINDSAY LOHAN SAYS FUTURE IS A MYSTERY
You once called yourself an alcoholic. Do you drink alcohol now?
Yes. Here's the thing — I have friends who would get so wasted at college, but I have never been one to get drunk and act like that; that's not who I am. When I was in school I didn't drink, or even try alcohol, until I was probably 18. I'm not lying! I'm just made out all the time to be the bad guy!