NEWS
OK! EXCLUSIVE: Michael Lohan on Kate Major — "We Weren't Supposed to Be Engaged"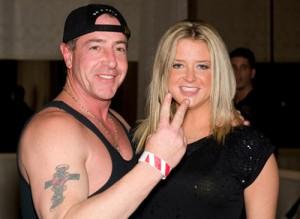 Michael Lohan is not looking to jump back in the dating game after his very public split with "fiancée" Kate Major. In fact, Michael tells OK! exclusively that he and Kate were never in a real relationship to begin with.
OK! NEWS: LINDSAY LOHAN BEGINS 90 DAYS OF REHAB
"I want to stay single," Michael told OK! at the Mercedes Benz Bridgehampton Polo match this weekend. "That whole thing with Kate wasn't supposed to happen like that. We were never supposed to be engaged, it was actually just a part of a reality TV show."
Article continues below advertisement
According to Lindsay Lohan's father, that reality show that started it all, "has since been canceled."
The feud between the fake couple — who announced their engagement in April — began just weeks ago after Kate, 27, filed court documents claiming Michael, 49, had verbally and physically abused her.
The show — which Michael was originally slated to do with veteran reality show dad Jon Gosselin — was going to be titled, Mike and Kate Can't Wait.
"It was being done by Beyond Productions and then all this stuff happened. We started to shoot the show out at the house, a Big Brother-type thing where we were doing charity work and Kate didn't like the people in the house, and she got annoyed and she was drinking a lot," Michael explained. "I told her to head out and that's how she ended it. My attorney is actually here with me today and the sheriff's department just left, they think it's a joke."
So does Michael still want to pursue a future in reality TV?
"No, I have a business, I trade a hedge fund," he said. "I don't need…I'm doing it for charity work, if something happens, something happens."