NEWS
OK! Exclusive: Ronsons Look Into Restraining Order Against Lindsay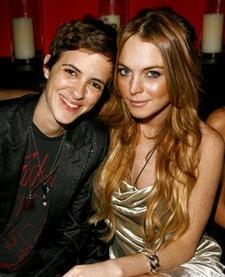 As the Lindsay Lohan/Samantha Ronson split continues to spiral out of control, OK! can exclusively report that Sam's family is so concerned that they are seeking a restraining order against the actress.
Around 5 p.m. PST on Monday, Sam's mother, Ann Dexter-Jones, and sister, fashion designer Charlotte Ronson, were at the Beverly Hills Police Department to look into filing a restraining order because Sam wants to "send a message" to Lindsay.
Article continues below advertisement
Charlotte and Ann talked to a clerk at the front desk, who advised them, "The restraining order is the best option. If she violates it, then she gets taken away."
The Ronsons spoke openly to the officer about their situation. "She does these things to get attention," said Charlotte of Lohan's recent actions. "She was trying to get into my party this weekend. We had to tell security to keep her out. Then she booked a room at the Chateau Marmont. Her room was right below... She also followed our brother Mark around."
"Lindsay was doing drugs," added Ann. "And we could not sleep that night at the Chateau. She was complaining about the music and noise coming from upstairs. She was trying to get attention, so that Sam could come down."
"She cuts herself too," Ann continued. "She is a cutter!"
PICS OF LILO & SAM IN HAPPIER TIMES:
"She got up illegally to our room," Charlotte told the policeman. "She does these acts of public humiliation. It is all for attention... She was also got physical with Mark."
Charlotte continued to speak to the policeman on duty while Ann took a phone call and explained the situation to the person on the other line.
??"Lindsay is furious because we did an intervention," she said. "Not about the drugs, but because of this situation... It is what it is."??
"Lindsay is publicly humiliating Sam," explained Charlotte. "She is trying to send out a message."
The Beverly Hills station can't issue restraining orders because there are no judges in the building. So the officer instructed the Ronsons to file a petition for a restraining order at the courthouse in Santa Monica.??
When contacted by OK!, a BHPD Sergeant on duty could not confirm what else the Ronson family might have discussed during their visit to the station, saying, "As far as I know, there was nothing documented yet today."
Though they were quite vocal inside the police station, neither Charlotte nor Ann would comment on the record to OK! as they exited the building.
By Patricia Ramos