NEWS
OK! Exclusive: Tom Lennon and Ben Garant on Why Hell Baby Might Be Based on a True Story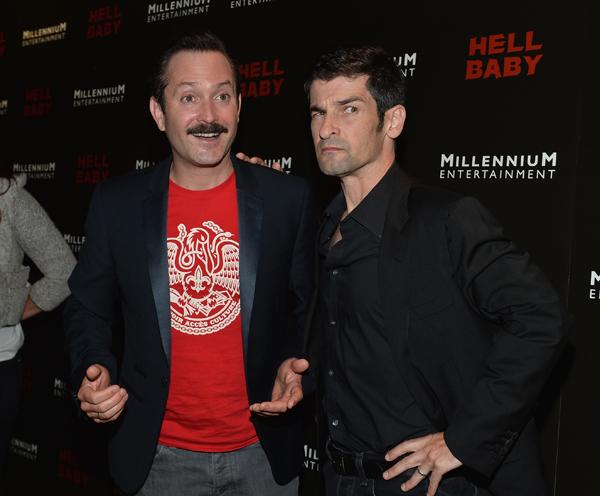 Hell Baby is the most ridiculous movie you will see this year. And that's a good thing.
The horror/comedy film is about a couple who move into a big haunted mansion in New Orleans that they got a too-good-to-be-true deal on. What they end up with is a lot more troubling than just a wife with pregnancy brain.
OK! News: See a pic of Ted and the Mother from HIMYM
The cast is incredible. It includes some of the funniest people you could imagine including Rob Corddry, Keegan Michael Key and Leslie Bibb. And that's not even counting the stars/writers/directors Ben Garant and Tom Lennon who I had the pleasure of speaking with about Domino's pizza, musicals and puppet babies, of course. Warning: there are spoilers below! Like, starting right now.
Article continues below advertisement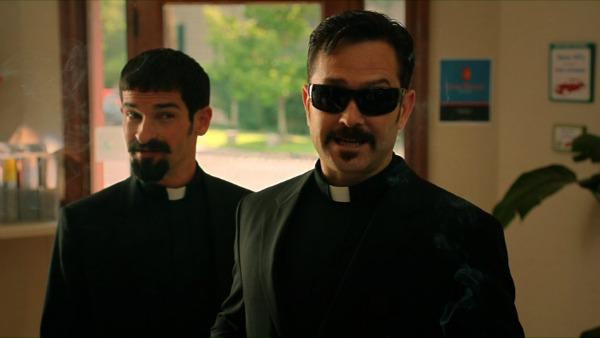 OK!: Let's talk about the baby of Hell Baby because I feel like it represents what I feel about children, which is that it's adorable, but I just want to hold it far way…
Tom Lennon: Well it's going to bite your face and blood's going to spray out.
Ben Garant: And kill the parents.
TL: The movie was crafted when certainly my son was very young. Then Ben and his wife luckily got pregnant during pre-production.
BG: We have our very own hell baby.
OK!: At what point was she born?
BG: Just nine months ago, the movie was in final editing.
TL: Yeah that was certainly part of it. Even the poster is distressing.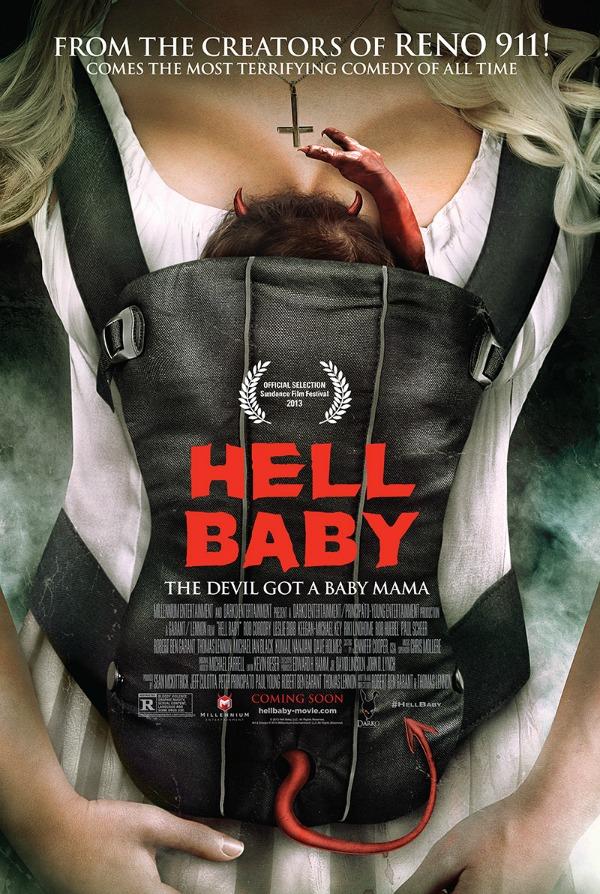 TL: But the baby almost never worked.
BG: We had three or four different puppets.
TL: One that was rubber. One that was supposed to make facial expressions, that one didn't work. One that was supposed to bite and spray blood, that one didn't work. One that just could chomp, that one didn't work. So it was like Jaws. You hear all the stories that the shark never worked.
Article continues below advertisement
BG: Apparently he (director Steven Spielberg) waited until it did.
TL: Oh, that makes more sense. We didn't have that luxury. We had to finish shooting, so the last couple days were a lot of acting.
BG: Exactly. The shoot was comedy, comedy, comedy and then the last three days was the exorcism through the baby fight.
TL: When the baby eats our face.
BG: Which was great. It was fun. The cast made it easy and fun.
Watch: See a new behind the scenes clip from The Office
OK!: I couldn't stop laughing through the whole thing. Just when you think it can't get crazier, it gets crazier.
BG: It's really stupid shit. Really, really stupid shit.
TL: People are like, "this is just a collection of sketches".
BG: Yeah, great!
TL: Because as far as I know, the only thing we're really good at is collections of sketches.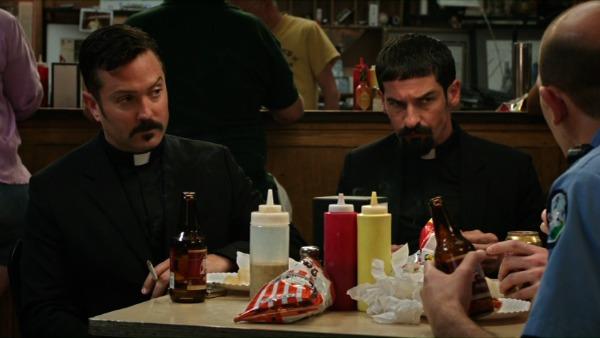 OK!: Speaking of sketches, I'm a little afraid to ask, but I need to know what the inspiration for the eating scenes was.
Article continues below advertisement
TL: Ah. That's a terrific question. I think for the po' boy sequences, we were little bit inspired by Delicatessen. Have you seen it?
OK!: I haven't. Should I see it?
TL: Oh yeah. It's a great movie.
BG: There's a sequence in the middle of it, where people in an apartment building start having sex and the springs of the bed start making noise.
TL: And then somebody's rolling paint.
BG: And then a guy in the basement picks up a saw and just starts playing the saw to all of the music that's happening.
TL: We like accidental musical numbers.
BG: Yeah it's really cool.
TL: We're musical theater fans. We know a ton about musical theater.
OK!: Any plans to do one?
BG: After we saw Book of Mormon together...
TL: We're both like, "Oh wow!" We did a lot of musical numbers on Viva (Viva Variety, a show they created in 1997). Almost every single episode had a big musical number.
BG: Yeah we had quite a bit of musical numbers.
Article continues below advertisement
TL: We should just leak those. You know what I'm going to do? I'm going to leak them. You know whose going to sue me about them? No one.
BG: No one.
TL: No one's going to hunt me down and sue me about videos of our old TV show. It's weird that that you can't get Viva.
BG: And we had every cool band in the world.
OK! News: See what's new on Netflix
OK!: I feel like Book of Mormon has really only opened the door for you if you want to do Broadway or a movie musical.
BG: Now people don't think you're crazy. You could really say, "They sing!" and they don't look at you like you're nuts. Are you going to do the Morrissey one?
TL: At some point I want to do a Mama Mia with Morrisey's stuff.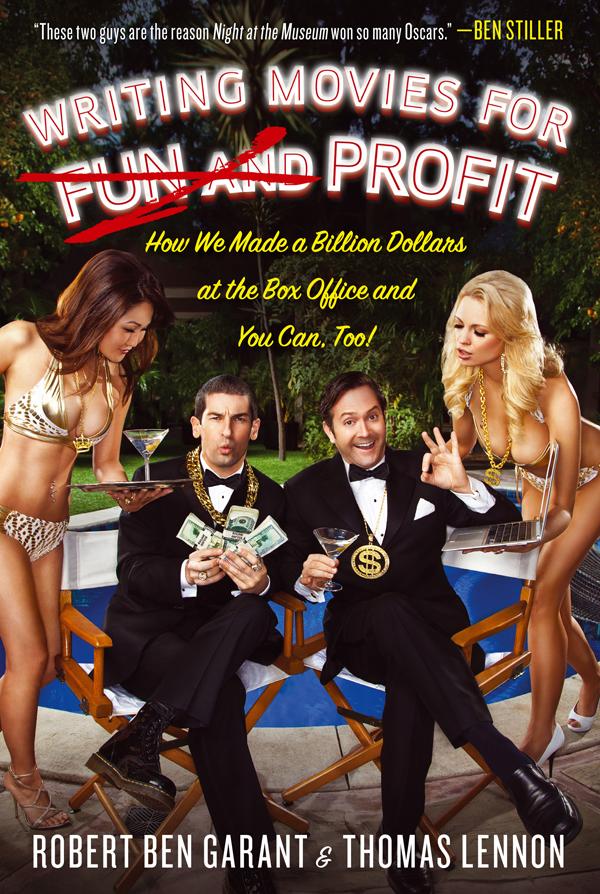 OK!: I also have to say I love the book. (Seriously, so great. Get it!!)
TL & BG: Thank you, thank you, thank you.
OK!: It is the best book ever because it's equally hilarious and informative.
Article continues below advertisement
TL: It's more serious than it seems.
BG: We hope that it encourages you if you should be encouraged, and it scares you away if you should be scared away. We enjoyed it.
TL: And by the way, this is not a brag. I'd just like to point out that because of the book we look like such egregious dick weeds. All the money we made from the book we gave to the USO.
OK!: Did you really?
TL: Yeah because on the cover we have hot chicks in bikinis and as soon as I read the book I was like, yeah we're kind of dicks.
OK! At first I thought you said the U.S. Open.
TL: Oh no they're doing fine. Those guys are fine.
OK!: So in the movie, they move into a house that could use a little work. Is there a home repair situation that scares you guys?
TL & BG: Oh, oh, oh.
TL: Well, the lamp repair (from the movie) really happened to me. In the house that I bought in LA, I found an old lamp from the 20's or whatever and I was like "Oh cool, I'm gonna fix it". And it almost killed me and burned down my entire house as it exploded into flames in my hands. So hopefully we can say "based on a true story" now.
OK! News: YES bacon-filled cupcakes!
TL: And no we didn't take any money from Domino's pizza to say mix their pizza with salad.
BG: We had to ask their permission.
TL: It was one of those weird calls where they're like, "Guys don't say Domino's," and we're like, "Um I'm not making the movie then." It's from Domino's.
BG: It's only from Domino's.
TL: "From generic pizza place" isn't as funny. Papa John's isn't as funny!
BG: Not at all, because you know exactly what that salad tastes like.
OK!: Or it doesn't taste like.
TL: They all enjoy it, nobody says this is bad. They're eating pizza salad. Pizza from Domino's, toss it with salad. Also from Domino's. Pizza salad.
Photos: All the Fall TV spoilers we know so far
Hell Baby opens in theaters Friday September 6.
Have you seen Hell Baby? What was your favorite part? Tell us in the comments below or on Twitter @OKMagazine.