NEWS
OK! Exclusive: Walk of Shame Star Sarah Wright Talks Trailer Duets With James Marsden!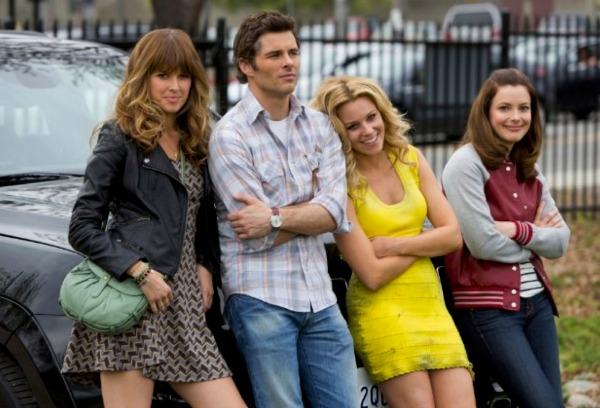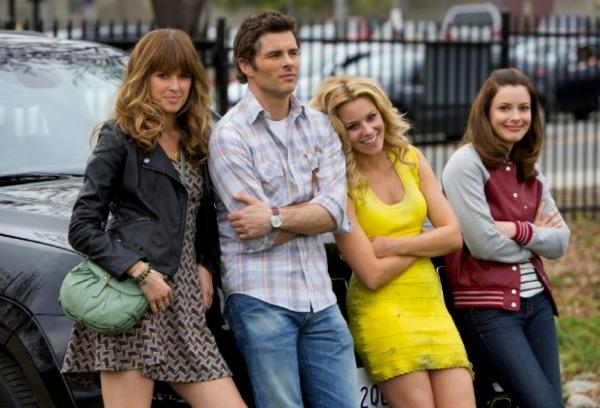 The new movie Walk of Shame hits theaters and VOD today and the only shame you will feel about watching it has to do with the volume of your laughter. Because it will be high. Elizabeth Banks stars as the prim and proper Meghan Miles, a news anchor up for a huge promotion to network news in the midst of a big breakup. So her friends (Gillian Jacobs from Community and Sarah Wright from 21 and Over) do what any best friends would do and take her out for a night of drinking, dancing and some more drinking. Megan Miles does that thing we all swear we "never do" and hooks up with the hot bartender (James Marsden), proceeding to leave in the middle of the night. While getting home proves to be quite the challenge for her, ending up in hilarious situations does not.
Article continues below advertisement
WATCH: Real Housewives do a dramatic reading of Mean Girls
If you are expecting a high-brow comedy that reinvents the whole rom com genre, this film is not that. But who needs that? Who even wants that? This film shoves The Hangover into a fancy pair of pumps for an adventurous evening that leads into a day gone completely wrong...or is it just so right? Elizabeth Banks has never been better or looked better: girlfriend not only teeters but also trots around sketchy parts of downtown Los Angeles in nothing but a sexy yellow dress and the aforementioned heels, bringing the laughs the whole time while interacting with a wide variety of human beings. Her co-star Sarah Wright confirmed: "She's just a bad ass honestly, she really is. She's athletic and super fit and if you were seeing her feet and she wasn't barefoot and she was (running) in heels, she was just that awesome, she was that dedicated. And it was really cold those nights, it was in the 30's and 40's, and she was always in that tiny dress running through the streets."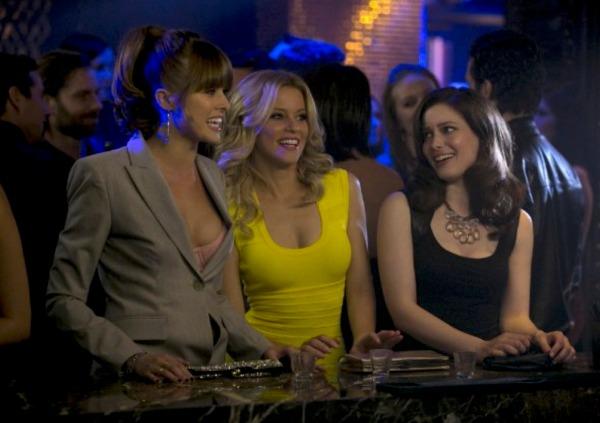 More about that yellow dress: it does cause many (aka all) of her interactions to go awry because people seemed to get the wrong impression of what she was doing out and about in that ensemble. But hey, we all need one of those dresses for a fun night out! Sarah even shared what her lucky look is, admitting, "I have a shirt that I call my pilot season shirt. Every year I have one shirt that I wear to every pilot season test, basically. It just works and why change it? You see me in the same outfit for like 3 months straight usually. But I think my lucky outfit when I was going out, it was that time when you would wear the shirt that was all silky in the front but that back was all spaghetti strapped and open. Remember that horribly inappropriate skanky look? Well I rocked it for like, maybe like 2 years. It was awful."
Article continues below advertisement
PHOTOS: Is there anything Emma Stone can't do?
While Elizabeth proves her hilarious leading lady status (as if anyone ever had any doubts), the only downside is that it doesn't give James Marsden enough time to hang around, although Sarah says she did get to have an amazing time with him on set. "James is awesome, I had so much fun with him. He and I would sing Bette Midler songs in the trailer when we were all getting ready in the morning. He's so fun and just as charming in person, by the way." Look out for her favorite scene together where she gives his character the Douche Test, one you will be administering to all potential love interests in your own life.
OK! News: The weirdest sports shows in Japan
Bottom line: if you're looking for a fun, silly adventure and a reminder to always, always hang on to your cell phone, you'll get a kick out of this movie. And think twice before buying a yellow dress.
Walk of Shame is in theaters and available on Video on Demand today.
Will you watch Walk of Shame this weekend? Tell us what you thought of it in the comments below or on Twitter @OKMagazine.