NEWS
OK! Interview: Frank Sinatra Jr. Hates On Scorsese's Biopic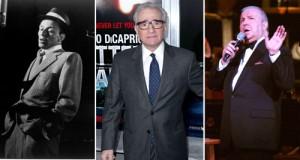 This week marks the 12th anniversary of the death of Frank Sinatra, who passed away on March 14, 1998 at 82. A year after it was announced Martin Scorsese would direct a biopic of the music icon and actor, slated for 2011, the debate over who should play Sinatra continues. Nobody is more concerned with Sinatra's legacy than his son, Frank Sinatra Jr., a legacy he feels is misinterpreted and told by the wrong people – including Scorsese.
Article continues below advertisement
Sinatra Jr. sounds remarkably, though not surprisingly, like his late father. Although he's made a career through his musical talents, he's never come close to reaching the recognition of his father, and was wearing a credential over his tux in his dressing room when he sat down with OK! before going on stage May 3 to sing his father's tune, "Spring Is Here." The 66-year-old son of the late Rat Pack member was one of a half dozen performers at Carnegie Hall to honor Sinatra by singing his famous songs at The New York Pops 27th Birthday Gala in NYC recently.
OK! GALLERY: STARS PREPARE FOR A SCARE AT SHUTTER ISLAND SCREENING
The benefit, titled "The Best Is Yet to Come," celebrated the legacy of Frank Sinatra, which, if Sinatra Jr. had his way, would not be immortalized by Leonardo DiCaprio, Mark Wahlberg or many of the other actors rumored to be considered for the coveted role of the man he says was more human than legend.
Martin Scorsese is going to be directing a movie soon about your father.
Article continues below advertisement
That's what they tell me.
If you had to pick the perfect person to play your father who would it be? There have been lots of names thrown out there, such as Leonardo DiCaprio.
Box office.
Box office, huh? James Marsden is another name, what do you think about him?
I don't know. I don't know. It depends on, first of all, I'm imagining not having seen one sentence of copy, I'm imagining that it's going to have a lot to do with his music. And I have to know if somebody has any feel for music.
Absolutely. Mark Wahlberg is another name and he's got a certain type of music--
Mark Wahlberg I would hope they would pass.
What makes you say that?
Because we need an actor.
OK! GALLERY: MARK WAHLBERG & RHEA DURHAM WALK, SHOP ON V-DAY
Ouch. What about James Franco?
I don't know, depends on what kind of feel that that person would have for music and the like. It's almost sure to enter into the story. And I am not being consulted in any of this and so I don't have any say in it.
Article continues below advertisement
Would you like to be consulted in it and part of the process? Is that something that would interest you?
I wish they would have come to me a little sooner, frankly.
What would you want to make sure is reflected in Scorsese's film?
There's a saying about celebrities that when the legend becomes bigger then the person you lose the person and all you have is this story, which may or may not be true. It may or may not be the correct size, it may be two "x" times normal; it may be three "x" times normal. You never know and this will bring about a false picture of what the person was like. I'm hoping they're going to go for the human side of all of this.
"Frank Sinatra Has a Cold," the Esquire article, written by Gay Talese--
Gay Talese has appointed himself a Sinatra authority since that article and I don't really know too much about what his motivations are.
RED CARPET CONFIDENTIAL: EMILY MORTIMER TALKS LEO, FAMILY BONDING
Okay, that's interesting. Why do you think he's done that?
So he can work and get paid money and go on panel shows and do things and be recognized as an authority in this, which he is not.
Article continues below advertisement
It seems like a lot of people have tried to become the authority of his legend from what you're saying.
You have said so. And you'd be right.
What are people not getting to see about your father?
I'll tell you what it is, and like I said, when the legend is made bigger than the person, all of a sudden we lose the person and not everything that becomes, shall we say legendary, is necessarily true. We can blow things out of proportion and it finally gets to the point that it just is not anywhere near the real picture. This is the problem. I'm talking about somebody that was painfully human. I mean very human and yet when the legend gets that big it makes a false picture.
What are some of the things that you remember that made him most human?
The way he looked at life, his view point, his dealing with people, his helping of people, his encouragement to people, his giving to people. He was an extraordinary person. But he never forgot his roots.
In what way?
Off the streets of Hoboken, another guy on the street. He came up with the street, had to pay rent at the end of the month, made sure there was enough money and everything else. There is no shortcut in life and he was the living proof of that. And that was something that was painfully clear.