NEWS
OK! Interview: Heidi Klum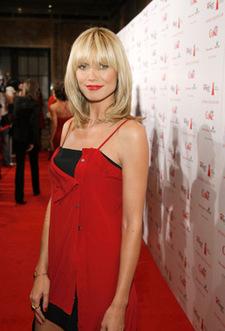 Project Runway host Heidi Klum dazzled the crowd at the fifth annual Heart Truth's Red Dress Collection fashion show. OK! caught up with the Diet Coke heart disease spokeswoman after the show to get her take on all things red: heart disease, Valentine's Day… and if she and singer husband Seal wanted to add to their already full brood of kids (they already have three for those keeping count!).
How did you get involved with Diet Coke and the heart disease foundation?
Article continues below advertisement
They called me and asked me if I wanted to participate this year and wearing the red dress to the Oscars. I asked Galliano to design this beautiful couture gown for me and a lucky winner will get this dress. Today we did the big fashion show with all different celebrities, singers, actors.
Do you have a personal connection?
Personally I don't but it's the number-one killer in America. More than all cancers together.
Do you think love and happiness contribute to a healthy heart?
A lot of things do. Love and happiness, but also eating healthy and working out. Not smoking, not too much drinking... All those things that you shouldn't be doing too much of.
You love junk food; do you have plans to adjust your eating habits?
I love junk food. I love fries and Big Macs, but I eat very healthy too. And I think when you have a great balance... I'm a very fit person. I'm going to be 35, I have three children and I'm fit. I move around and I get a lot of exercise. I think if you have that kind of lifestyle you can have your Big Macs and fries too.
Article continues below advertisement
And are you instilling those values in your kids?
That's what we do. That's who we are. That's how we live. There's no pizza all the time. There's no fries all the time. They eat exactly what we eat. We don't alter or change the food for them at all.
What are your Valentine's Day plans?
No plans yet. Seal always does a good job!
So... Do you and Seal plan on having any more kids?
Not right now. Kids are so amazing. Obviously I could have thousands of them because they're all so amazing and unique and different. But three is a lot. Let's see what happens. It's funny you have three kids and people always ask where's the next one? Where's the next one? Let's start with one first!