NEWS
OK! Interview: 'Idol' Cast-Off Paige Miles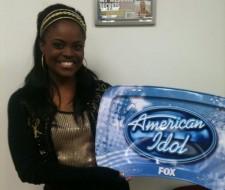 Paige Miles is using her time on American Idol as a launching pad to a bright career. The 24-year-old Naples, Fla. native was the eleventh contestant to be voted off the hit singing competition but hasn't let her elimination bring her down whatsoever! The bubbly belter with great-style stopped by OK!'s NYC offices recently to chat about her time on the Idol stage.
"American Idol is a great platform," Paige told OK!.
Article continues below advertisement
The Idol hopeful's off-key version of "Against All Odds" led to her elimination on March 24.
Paige also battled with a severe case of laryngitis, forcing her to tone down her normal, belting practices.
OK! NEWS: DIDI BENAMI ON IDOL ELIMINATION — "IT'S BEEN A CRAZY-COOL RIDE"
"It's really just the beginning," she continued. "I feel like it was just a detour for me. I battled with what I battled with and maybe it was just a time for me to stop to just let everything heal the way it needed to.
Paige said she will be on vocal rest for a couple of weeks, but looks forward to moving on with her music career.
Were you surprised to make the Top 12?
I was really happy about it. Of course our goal is to make it in, and we all believe we have what it takes to make the top 12, so I was extremely happy.
How did it feel to have Simon Cowell say to you, "Out of all of the girls, you have the best voice."
Article continues below advertisement
It felt great. It was really validating. It kind of confirmed to me why I was there. I was happy he said that. He doesn't make comments like that very often.
What is it like interacting with the judges?
Pretty much just what you see on TV, that is our interaction with the judges, so that can be very intimidating to be judged by this panel that you don't really get to know well. It's scary. It's a different world when you are performing in front of someone to be judged immediately after. It's nerve wracking.
Who is your favorite judge?
I think Ellen DeGeneres because she brought a very comfy dynamic to that table and made us feel really comfortable. She is coming from the performers' standpoint. She is used to being on stage and knows what its like to be booed off or to have a standing ovation. That is what she does — she's an entertainer first and foremost. That's why she's so understanding and has a really hard time getting down on us, because she knows how tough it is to do what we're doing. She's been more in front of the scenes where the other judges they've been in the business and they are great at what they do, but they are still behind the scenes. She understands the pressure and how something like that can make you just go crazy.
Article continues below advertisement
Were you expecting to be voted off?
I was surprised to leave this early in the game, but after my last song I knew that it could be a possibility if the votes were going to be based on performances from that week. I was suffering from laryngitis for weeks. It had been super hard for me. Someone who is used to running one specific way, and then they get in a competition and realize they have to learn a whole new way because of something that's going on with them. It's really hard to make changes and for me I had to make changes to my style of singing. I couldn't do what I was comfortable with, those big, "belty" up-tempo songs. It would not work. I was trying to take slower tunes, slower ballads and I was struggling with them a lot.
Your performance on the Late Show with David Letterman was great. Paul Schaffer loved you (Paige rocked Stevie Wonder's "Living for the City" on The Late Show with Letterman on Monday).
Yea, well that's more my style of music. They were amazing. They were so nice. That was so much fun.
Is it difficult to sing the song after you are voted of the American Idol stage?
Article continues below advertisement
No. It was a song I loved and I was comfortable with. I was more nervous with "Against All Odds" and "Smile" which are these smaller ballads that I had tried to take on to try to preserve what little voice I had those weeks. It kept getting worse and worse. I would have love to do songs like "All Right Now" every week and rock out and belt and scream all over it. That is what I love to do. But vocally I couldn't do it and I was thinking long term. I didn't want to cause any damage, and knowing that was the song I was going to leave with I was ready to rock that out. And I knew I didn't have to worry about preserving anymore because I didn't have days and days of rehearsals coming up and recordings so I just let it go.
What's next for Paige Miles?
Creating a album that will reflect me as an artist. Definitely going to take my time on it. I'm in no rush to just jump in there. I want to make sure it is everything that I want it to be. I really like blues and soul, and I like to rock out to. It's definitely going to be a blend of those too. Tina Turner-esque, Christina Aguilera-esque — that kind of vibe on it.
Article continues below advertisement
Will you maintain the bonds you made with fellow Idol contestants?
For sure. We became each others' family. Without our family around you kind of start becoming each others' backbones. Even though it's really weird because it's a competition setting but we are together all day, doing the same thing, going for the same goal so you can't help but to form really good bonds with these people. Lacey and I are getting an apartment in L.A. We have to go apartment hunting first and find our way around. And a good deal.
What did you think of having Miley Cyrus as a mentor?
She was actually a really sweet girl. She kind of came and overnight sensation. We did have things to relate on because that happened to us as well. One week we are just kids trying to fight through Hollywood week and the next 30 million people were watching us every week. She's dealt with a lot in the years she's been in the business and she works a lot. She's been on sold out tours. She's a recording artist. She does TV. She does it all. There were some good tips we could take from her. Even though she is younger, she is way beyond her years.
Article continues below advertisement
Did she give you any personal tips?
That song I was doing "Against All Odds" she was like "it's pitchy." Which it was. I was struggling all around the song. I was trying to get it to work for me. When she said that I thought "Well, she has good musical ears." Katie Stevens and Aaron Kelly advice too, about dealing with the pressures and the negatives and positives. And she was the first to say "You will have millions that love you and millions that hate you but you have to remember why you are in the business and that's for your love of music first and foremost." She was also like she couldn't do what we do ever week and perform in front of those judges. It's horrifying to have to perform and have an immediate reaction, or having someone tell you "That sucked."
Anyone you would like to have as a mentor?
Quincy Jones, Stevie Wonder, Christina Aguilera, The Jacksons. Those would have been terrific. All the vets who have really been in the business for a long time and have seen the industry change, and change again and again. Christina is an amazing vocalist. I would have loved to pick her brain because she is incredible and she is really good at sustaining her vocal cords. She is a big belter and it's hard, but she takes her time between albums. She doesn't rush things. It's always great quality and you always anticipate it so she is definitely someone I would have loved to get down with.
Article continues below advertisement
Viewers have noticed you like to wear jumpsuits. Is there any inspiration behind that for you?
No. I really just wear what works for me. I don't like things that I think everybody else might put on. I like to change it up a little bit. I usually always wear to different earrings. Whatever I can have fun with. I'm not big into colors, so wearing that white dress while performing was huge for me. I'm very east coast when it comes to my style. Glitzing it up here and there was very experimental for me. But I love jumpsuits. I love one pieces — which are really hard to get out of and use the bathroom. That was like a running joke with Ryan for a while. A lot of the girls started calling them onesies. "Paige and her onesie." I was like whatever it's one piece you had to find multiple pieces to make yours work.
Did you interact with host Ryan Seacrest a lot?
Way more than with the judges. He is with us during the day doing the rehearsals or the blocking; versus the judges, we see them right before the show starts. Five, four, three, two, one, there they are. We get to know Ryan a little bit more. He's hilarious. He's the sweetest, most kind person. He is so grounded and down to earth. It was actually really cool having him around. He had a way of making us feel better. He was always positive!
Check out Paige's performance on Letterman!
Interview By Nicole Eggenberger and Brittany Talarico