NEWS
OK! Interview: 'Mob Wives' Star Renee Graziano Talks $30K "Body Lift"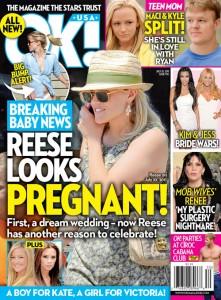 On June 27, Mob Wives diva Renee Graziano underwent a massive surgical overhaul — a $30,000 "full body lift," including a tummy tuck and a buttocks lift — because, as Renee put it, she has always wanted more "junk in my trunk." What she got was a near-death experience: Coming out of anesthesia after the five-hour procedure, Renee moved the wrong way and burst open her stitches, unleashing a geyser of blood — and requiring emergency surgery at a Staten Island hospital. In an OK! exclusive in this week's issue, Renee spoke — frankly, as always — from her hospital bed about the ordeal.
Article continues below advertisement
How did you tear the stitches in your back?
Basically, they cut me all the way around the middle, and after the surgery, I don't know if I sat up, rolled over or whatever, but I tore the stitches open. They realized, after maybe 15 minutes, that I was in a pool of blood.
OK! VIDEO: WATCH DRITA D'AVANZO & KAREN GRAVANO'S SHOCKING CATFIGHT ON MOB WIVES FINALE
Did it hurt?
Honestly, I don't remember because I was still under anesthesia. But I had to undergo a blood transfusion; I received three pints. Then I went back under for 40 more minutes of surgery. This has not been pleasurable — not that I expected it to be a walk in the park, but I didn't expect the complications, and I don't think the doctor expected the complications. But I always say, "You never know what to expect with Renee!"
How are you feeling now?
I'm having a lot of pain now, to be honest. I did as much walking as I could this morning. I was great, and then after a few hours, the doctor had to change my bandages. I'm leaking or whatever.
OK! EXCLUSIVE: 13 JUICY SECRETS ON THE MOB WIVES — SHH... IT'S CLASSIFIED!
Did you have any second thoughts before the surgery?
The guy I'm now dating, we'll call him Mystery Man, when I discussed it with him, he was like, "Don't do it; you don't need it." But I don't listen to anyone.
Article continues below advertisement
Do you regret the surgery?
It looks like a horror story, but I don't want it to. S*** happens. I don't want people to be afraid. I mean, would I do it again? Yeah, I would, you know what I mean? Everything is a learning
experience.
OK! POLL: WHICH ONE OF THESE TOUGH CELEBS WOULD FALL TO THE MOB WIVES BOSS IN A FIGHT?
Does the close call make you think about mortality?
I'm on the mend now! I'm not dying anytime soon. I've got about another five seasons for you!
FOR MORE OF RENEE'S EXCLUSIVE INTERVIEW WITH OK!, PICK UP THIS WEEK'S ISSUE — ON SALE EVERYWHERE NOW!