NEWS
OK! Interview: Queen Latifah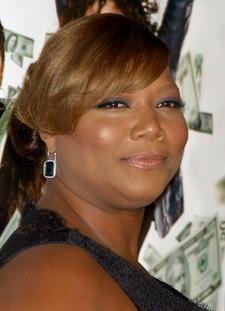 She's sold millions of albums, won an Emmy and a Golden Globe and been nominated for an Oscar. But even all that wasn't enough to prepare the soulful singer and actress for working alongside screen legend Diane Keaton and Mrs. Tom Cruise, Katie Holmes, in the upcoming film Mad Money.
OK! recently had the chance to talk to Latifah about her experiences making the heist comedy, which hits theaters Jan. 18.
Article continues below advertisement
Was it intimidating working with a veteran like Diane Keaton?
Whenever you work with someone who has been doing it as long and as successfully and as wonderfully as she has, there's always a little bit of awe. Or a touch of fear, or a touch of intimidation. Not really enough to affect what I do, but I really am enamored of her. I'd watch her gear up for a scene, and I'd watch how she got herself there, I thought it was just so cool. For me, it's not so much intimidating as it's an opportunity to learn.
How did you enjoy working with Katie Holmes?
She's just cool. She had this quirky character to play and she just fit right into it. As a person, she's just a really sweet, kind of laidback person. She's strong at the same time. She's opinionated about stuff. And kind of, like, flirty.
It's quite funny because my character hadn't had sex in god knows how long and she kept jumping on that thing like, "What? I think you should do it! Really?" She kept hitting me with that, and it was hilarious to me! We all worked well together, and she was the perfect fit. As soon as we had her, we had us a movie, and it seemed to feel right.
Article continues below advertisement
In Mad Money, you, Diane and Katie steal tons of cash. Did it give you naughty thoughts?
I think everyone, somewhere in there, who works hard and pays taxes and works hard in this country wishes in some way that they could get away with it! I think everyone has walked into cash a check at the bank or deposit some money and thought, 'Hmmm… What if I robbed this bank?' You don't do it, obviously… But you think about it because you know somebody did it. And you see movies.
What was it like playing a single mother?
My mother was a single parent so I didn't have to go far for research. With a lot of things, I seem to be able to tap right into my own family, into my mom's experience with my dad and find things that I need… We were just that affectionate family, so I really wanted to have that with my boys.