NEWS
OK! Interview: Rachael Ray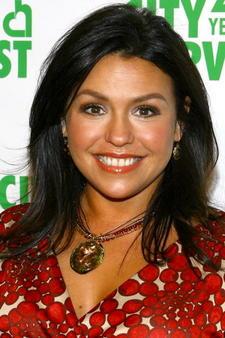 Everyone unwinds during the holidays — even Rachael Ray! The multihyphenate is looking forward to retreating to her upstate New York lake house with lawyer-hubby John Cusimano and their dog Isaboo and doing nothing but hanging out with her family. But before she does, the perky 39-year-old opens up to OK! about her favorite holiday traditions and how to be "loosey-goosey."
It's such a stressful time of the year. Do you have any tips?
Article continues below advertisement
I think people make the stress for themselves. Don't look for balance in your life. It's just a crazy time of year — accept that. Keep things as simple as possible, and even if you have to do it at 10 or 11 o'clock at night, make time to spend with your husband or your family or the people who are close to you. We entertain during the holidays and because I do three shows a day, sometimes we'll have to say to our friends, "Do you mind eating at 9 or 9:30?" But we still make time for them, and my husband and I make dinner every night when I get home and we make time for each other, so you know — don't feel pressure to keep all things equal or to keep a schedule. Go loosey-goosey and keep it simple.
What's your favorite dish for a last-minute holiday party with friends?
Depends on what they like — I serve burgers, chili, pastas — I serve more simple food than complicated more often than not, but you know, it depends on who's coming over. You have to think about what your friends like.
Your favorite Christmas movie?
Well my favorite Christmas DVD thing to watch is probably The Grinch, but I don't know any Christmas movies I hate — It's a Wonderful Life is probably my fave, but I like all of them. Oh! I love A Christmas Story. That kid sticks his tongue to the flagpole — hysterical.
Article continues below advertisement
What are some of your favorite family holiday traditions?
Just being together, and eating and sleeping. We love to nap after a big family meal. We just like being up in the mountains together. We like snowshoeing, and playing with the dog in the snow and building snow people and snow animals. That's it — we're very turtle-like — we like to build fires and sit by them.
Is it just the two of you guys and the dogs?
No, my mom, my brother lives up there and my father — everybody comes in and out of town and visits. We have a lot of outdoor fireplaces, so we'll bundle up and sit in the snow next to the fire.
Any New Year's resolutions?
No, I mean in general, with each year of my life I try to feel a little bit better about my behavior and myself than I did the year before. I leave it at that.
What are you most looking forward to next year?
I haven't planned anything so far — it's kind of got a life of its own at this point. I don't plan too far ahead, I just take it one day at a time and always look forward to getting out of bed.
For more on Rachael, check out the latest issue of OK!, on newsstands now!