NEWS
OK! Interview: Reigning 'American Idol' Winner Lee DeWyze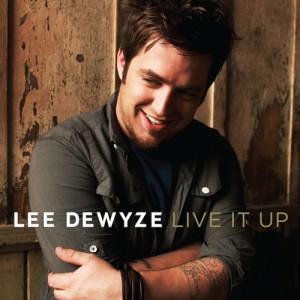 After winning American Idol last season, Lee DeWyze has been quite busy for the past nine months between recording, touring and promoting his debut album, Live It Up. Lee returned to the Idol stage last week to perform his new single, "Beautiful Like You." We caught up with Lee to talk about his new song, his touring plans and who his favorites are on the new season!
How was it being on Idol last night?
Article continues below advertisement
It was great. A lot of fans came out and they had signs, it was cool. To be on that stage, not as a contestant, but as an artist playing my own music was great. Being up there and playing the single, it was a good time.
How has the feedback been since the performance?
It's great. People contacting me about how much they love it. I really like the song and I am glad people just enjoyed the performance. I want to show people that what I did on the show isn't what I am doing as an artist.
Did you get to hang out with the judges?
I got to see Jennifer Lopez again. I had met her before. Me and Steven Tyler talked for a little bit. He sang me a couple of notes of his new single coming out, which was cool. It was pretty awesome. It was surreal.
OK! NEWS: AMERICAN IDOL BLOG — TOP 12 RESULTS SHOW
Did you get to catch up with Randy Jackson and Ryan Seacrest?
Yeah! With Randy, every time I see him, he is like, "Let's get together, man!" It's great to hear that from him. He's such a cool guy.
Article continues below advertisement
How were the contestants?
I got to go upstairs before they went out there and they had a lot of questions. I was in their position and one day, they will be in my position. I know what they are going through and it was cool to give them a little advice. Me and Casey Abrams got to talk for a minute. He's a really cool guy, I liked him a lot. He is definitely the kind of guy I would jam with. And I think that Pia Toscano is great. There are some great contestants this year. I think any of them could be successful, but I think right now those two have really stood out to me. And Haley Reinhart has a lot of potential. She's young but she has a really great blues sound going.
What made you choose "Beautiful Like You" as your next single?
It's really what's it about and what it stands for. It's a plea for someone to open their eyes. It's an encouraging song to remind people that as hard as things may seem, there is always better things out there for you. It's just about opening your eyes to that.
Will you do a video for it?
There is talk of doing a video for it, we're going to try to. The main focus right now is to get out there and perform the single. And if we do a video, I'm sure we'll get it out there soon. But right now, it is about the single and just getting out there and playing.
Article continues below advertisement
Do you have any tour plans?
We have a bunch of one-offs coming up, a bunch of university shows. It's going to be fun. We're definitely getting a real tour together and the goal is to get out there by June or July. I just want to be out there playing.
What have you learned as you have done live shows so far?
I have actually found that the more and more I do, the easier it gets. I just go out there and sing my songs the way they were written. It's very easy for me to get emotionally involved in a song when I am performing it. I think it comes across as very honest.
Were you bummed that you didn't write the new single?
No! Music is open to interpretation no matter how you look at it. I definitely heard something in that song that I knew would be great. It's something that I would have written myself.
Do you still talk to people from your season?
I still keep in contact with a few of them. They are all doing their own thing. You make friends along the way. Some people you make friends with and some people you don't. I hold the relationships close to me that mean something to me.
Article continues below advertisement
Have you hung out with anyone recently?
I see Andrew Garcia sometimes. I've seen Katie Stevens a few times. And Big Mike. But I've been so busy.
Have you played shows with other Idol winners?
I played a show with David Cook in Napa. I played a show with Kris Allen. I got to really hang with both of them. They are great guys. David is a cool dude. I think Kris is a talented songwriter and he is a good singer. He's done great for himself. I really respect those guys. But we're all different. We've all got different sounds and different vibes. It's easy to compare when we all have dark hair and we all play the guitar. But we're not the only three guys in the world that have dark hair and play the guitar laughs. If anyone really took the time to listen to our music, they'd see that we are completely different artists with completely different sound. They're both talented guys, they're great, but I am just doing my thing.
Has your life changed since you won?
No, not really at all. No, I am just kidding laughs. It's definitely been different. Getting up every day and not going to a job that I hate and getting to do things like this and prepare for shows. That was my goal as a kid and that's my goal now. I've never really happy with where I'm at, I am always reaching for more. I just want to do this for the rest of my life. I will do whatever it takes to make that happen.
Article continues below advertisement
Do you get recognized everywhere you go?
Yeah, I do. It depends. I drove cross-country with my brother recently and we stopped in this small town in New Mexico. The population was maybe 800. I stopped at a gas station and the lady behind the counter recognized me. I was like, "Wow, cool." It's crazy. I will be in L.A. and get noticed, and especially when I go home to Chicago. It doesn't bother me too much. A lot of people say that it's what you asked for. It's not what I asked for, I just want to do music, but it definitely comes with it. And it's encouraging, that people out there are interested in you and they liked the music. That's a great feeling. They're the reason I am doing this and they are the reason I keep doing it.
There is a difference between people who want to be famous and others who just want to be musicians?
If you want to be famous for doing nothing, then you can go make a reality TV show about going out and drinking and doing nothing. That's just wanting to be famous and that's great, you can make a great living off of that. I'm trying to make a great career and a life for myself. I love playing, I love being out there performing for the fans. It's like a drug and it's one I'll keep taking. It's just my passion and what I love to do.
Article continues below advertisement
How do you like the Twitter experience?
I was never a big social networking guy before all of this. In the 70s and 80s, if you want to know what your favorite band is doing, you bought the album and bought any articles. I remember growing up and I was a big Pearl Jam fan. If you wanted to know what they're doing, you ask around. Now it's as simple as Madonna is going out for coffee. It's a different experience, but that's the age we're in now. It's not necessarily a bad or good thing. It's just another outlet to connect to fans and the people who are interested in the music. I want to keep the fans happy. I will do whatever that takes. I love to keep in contact with the fans.
For all things Lee, check out leedewyzeofficial.com. You can also follow him on Twitter: @leedewyze
Catch Lee's performance on last week Idol's results show below!
By Rana Meyer