NEWS
OK! Loves: Nova Rockafeller—How the Rapper Went From Living in a Mall to Celebrating Her Awesome New Music Video with Laser Tag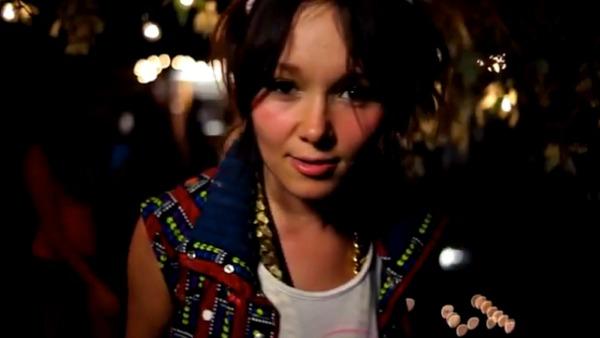 We all need one of those friends in our life that challenges us, dares us and exposes us to new things. Meet your new best friend: Nova Rockafeller.
She's exactly that. She's a different, unique, ballsy, exciting, fearless and fun, which is exactly what you'll find in her new video for "Problem". Watch it right now and then when you're craving more info on her immediately, read my interview with her below!
Article continues below advertisement
radar_embed service=youtube src="//www.youtube.com/embed/o9-afFQ24rU" width="480" height="360"
OK! News: 8 tours you don't want to miss this fall
Here's my chat with Nova who talks cameos in the video, laser tag, wardrobe choices and what living in a mall is really like.
OK!: Was the concept for the video your idea?
NR: Having a bunch of weird stuff happen was definitely our idea. My idea was the bouncy castle obviously. That sounds like a whole Saturday to me.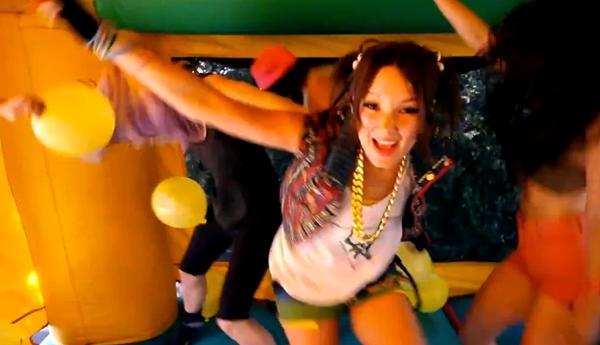 OK!: I have a theory on life that bounce houses make everything better.
NR: Or laser tag. Laser tag's real good too. I've gotten into in the last month, it makes everything great. We're contemplating going to play for the entire day today, we're like, what else do we have to do today? It starts at 3pm and it's unlimited play, we're like, "Can't think of anything else!" laughs
OK!: Do you play against only your friends or do you end up playing against random 12-year-olds?
Article continues below advertisement
NR: It's a mix of both. We got slaughtered by some 12-year-olds not too long ago. We were so angry, like yeah, it's not worth another $12 to play with these kids.
Watch: Chris Manzo wants Taylor Swift to throw this item at him
OK!: Was there anything that you wanted to do in the video that didn't make it in?
NR: Oh, there was a lot of things I wanted to do that wouldn't make it into the video. I really wanted to do like a huge cannon ball into the pool, but that would have just pissed off all the makeup and hair people like really bad laughs.
OK!: It is one of those videos you have to watch multiple times to see everything which I like.
NR: Well the one thing, I had my banker come out. When I first got here (to Los Angeles) I didn't really have a bank account or anything. I didn't have a cellphone the first trip and they're like, "You need a cellphone," and I'm like, "Fine." And then the second trip I finally got a bank card and the banker guy was such a nerd, that I thought he was doing it ironically. He was such a nerd I was like "You're definitely one of my new friends" and he's like, "Can I be in your video?" And I'm like, "If you wear a suit" and his dancing scenes, I saw some of the raw footage, it was some of the funniest stuff I've ever seen and I was like, "No, you're really a nerd!" laughs
Article continues below advertisement
OK! News: OKMagazine.com on the radio! Find out when to hear us
OK!: You've had a pretty interesting past including living in a mall at one point? That sounds fun, but is it?
NR: Yeah I was born in Canada and then like from my high school years and my junior high years and stuff like that were spent in Jamaica. It was really not that much fun (in the mall), like you constantly have to run. It was in the winter so in Canada it's like minus like a million, it's really cold and really depressing. It was just like looking for somewhere safe to sleep. I was completely spinning out of control, there was probably about a year there where I just slept in the stairway of the mall. The thirteenth floor of the stairway didn't have a camera. At the time I think it was the world's largest shopping mall, so they had a real hard time finding me.
OK!: So did you channel a lot of that stuff into your music?
NR: Honestly, not yet. I'm still getting comfortable because when I was making a bunch of internal music by myself in my basement it was easier then, but now that I'm getting put in the studio with producers and new people and all this stuff, I guess I'm just really guarded from my upbringing obviously. It's hard for me to write about it around other people because as much as I can joke about it now, it's seriously a really hard time in my life. I'll make little mentions, something that might mean something to me it'll mean something else to somebody. There's little things hidden.
Article continues below advertisement
OK! News: Celebrate Jimmy Fallons b-day with his best gifs!
OK!: How much music do you have recorded right now?
NR: We have a lot of songs for the album. I think we're just making as many songs as I can make before I freakin' explode or implode and then we're just gonna pick the best ones. I know if we stop now we have such a solid album. A lot of great songs, but I feel like as I'm getting better at song writing and as I'm finding out who I really love working with and stuff like that, they're only getting better. Every song I come home I'm like, wow, I didn't know I was capable of doing this in four hours.
OK!: Are you inspired by other things you see on YouTube?
NR: Honestly, I'm at a whole different point in my life where I'm just trying to have as much fun as possible and that doesn't involve sitting on YouTube and checking other people's stuff. I listen to like Ludacris from 2002. I love "Country Grammar" by Nelly do you know what I mean? I don't feel like I need new music in my life at this point, especially since I make music everyday there's time when I get home and I just don't even wanna turn on anything. I don't want any kind of electrical stuff, I just wanna go into my own little world.
OK!: Did the outfit in the video have any meaning to you, did you pick it out?
NR: Oh yeah well cause I dress like a slob. Not a slob, but I have clothes that I just love. I have these red terry towel shorts and they're everything you think they are. They really are. And then I have like overalls and cool things and I have had the same Army skort, it's actually a skort. I've have it since I was 16 and I'm 25 now. The guy who runs my label Evan, he was like, "Yeah you have to look like someone threw up color on you". So I got two days off studio, I was freaked out. My mom flew down and I was like, "What the hell am I going to wear?" and I've never worried about stuff like that. I'll put 20 minutes of effort in and then I'll just settle with whatever the first thing I tried on was, but this time I made those shorts. Those are regular shorts that I took like fabric dye and had to make them like three different colors and all the patches on them and then I had to make my gloves and I made all my bracelets and then my chains. I make everything cause I can't shop, I hate it. I'd rather just sit at my house for 8 hours and make things. I really love Pinterest. It's embarrassing.
Are you in love with Nova now too? What's your favorite part of the video? Tell us in the comments below or on Twitter @OKMagazine.