NEWS
OK! Movie Mania: Breaking Down the Best On-Screen Pairings in the Star-Studded A.C.O.D.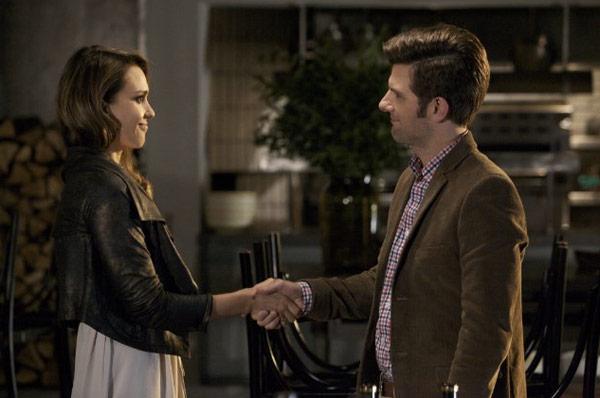 A.C.O.D. is a brand new movie in theaters today that stands for Adult Children of Divorce, but I want to marry this entire cast and live happily ever after.
The story revolves around Adam Scott who it is fantastic to see in the starring role. He is one of my favorite actors and I hope he continues to be afforded really great leading roles because he is more than capable. (If you have ever seen a small film called The Vicious Kind with Brittany Snow, you know this.) His character in A.C.O.D. is a considerably adjusted adult man who has his life in order, even if his parents might act like children. When speaking with a handful of media outlets this week, Adam and writer/director Stuart Zicherman were careful to point out he is not your typical man-child, as several other movies tend to be littered with. Not that there's anything wrong with that either! While admitting he enjoys watching those types of movies, it's not what Stuart was looking to make and shared, "That is a huge reason why I wanted Adam to play the lead in the movie. Even in movies where he is being ridiculous like Stepbrothers, he is still playing the adult, you know he is a real adult. From the first time I saw Party Down I was just like this guy needs to be in the movie, and I would love it to be my movie. But yeah, I don't feel like men in movies need to be stupid anymore."
Article continues below advertisement
1. Adam Scott and Amy Poehler
This ain't no Ben and Leslie situation though. Amy plays Adam's step-mom in the movie and it is amazing. To me, it felt like an alternate universe where Ben and Leslie (on Parks and Recreation) don't end up with each other, and while I don't ever want to think about that happening it is fascinating to see Amy snap at Adam on screen.
Article continues below advertisement
This was a different role for Jessica. I can't quite put my finger on how, but there was depth to her character. She was mysterious and maybe a little messed up and funny. I want to see her in more of these roles. There is some great chemistry between her and Adam. Without giving away their situation in this movie, I'd like to see them play a real on-screen couple sometime soon. Make a note, Hollywood.
3. Richard Jenkins and Catherine O'Hara.
Oh wow. Their characters are far from the best parents to Adam's character Carter, yet by the end of the movie you find yourself thinking, "Hmm I'd like to see more of that". Probably in an "acting opposite each other way" and not so much of a "wish they were my parents" kind of thing though.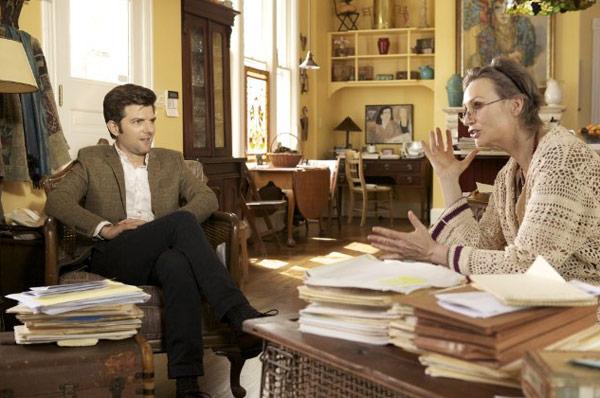 4. Jane Lynch and Adam Pally
Well Jane Lynch in anything really. She has some fantastic scenes with Adam Scott as a pseudo-therapist in the film, but there is one almost throwaway yet really brilliant-if-you-catch-it scene with Adam Pally. I even wonder if he was supposed to have a bigger role in the movie that got cut, because it would've been very interesting to see more of him. Yes, now we will get our fill of Pally on The Mindy Project, but it was smart to throw him in with these comedy greats as well.
Article continues below advertisement
Photos: See the best celebrity Instagrams of the week
In the film, Jane's character wrote a book about children of divorce that Adam's character was unknowingly a huge part of. So when I asked Adam and Stuart if they would read a book they found out was about them, it was especially fun to learn that Adam definitely would, and even has! "I went to preschool at my dad's work which was a college, so all the teachers there were students. Being a teacher at a preschool was a course they had to take. So they all had to write dissertations on their experience, so the student-teacher that was assigned to me had to write a paper on all of my behavior. I came across this recently and it was fascinating, because you don't remember any of that, but then something comes up and you're like, 'I remember that.' Even though it was me as like a four-year old it was fascinating, as I think it would be for anyone, but especially for me because I'm a bit of a narcissist. I think anyone would jump at the chance to read about themselves."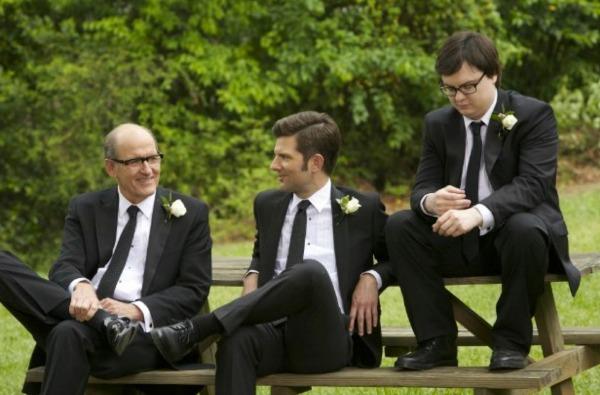 5. Adam Scott and Clark Duke
Clark plays Adam's younger brother who is much less affected by their parents divorce. While it is fun to see Adam play the more controlling older brother to the much freer-spirited Clark, I'm really looking forward to seeing them share screen time in Hot Tub Time Machine 2 where Adam can only share that his character is "from the future."
Honorary mention: Adam Scott and Mary Elizabeth Winstead. If you haven't already seen Mary in a handful of movies, get ready. Start with Scott Pilgrim vs. The World, it's my favorite but she's also wonderful in Smashed with Breaking Bad's Aaron Paul and another P&R familiar face, Nick Offerman. Even though this role didn't necessarily allow her much, she's one of those actresses we'll be seeing for a long time.