NEWS
OK! Movie Mania: Listen to Britney Spears' Brand New Song for The 'Smurfs 2' Soundtrack, "Ooh La La!"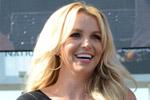 Britney Spears and Ryan Seacrest are basically besties, so we are not shocked at all that Ryan got to world premiere Brit's new single, "Ooh La La," this morning on his radio show. Ryan first played the track, which is definitely true to her previous stuff but more poppy and with a mix of Gwen Stefani's "Hollaback Girl," and then Brit called into the show to talk about the song more in depth.
Photos: 5 Reasons Why Miley and Nick are Britney and Justin 2.0
Article continues below advertisement
She called it "straight up pop" and said that it had a "young feel," but she said the real reason she did the song was because her and her sons, Preston and Jayden, love the first Smurfs movie so she did this song for them. So darn cute.