NEWS
OK! Old School: The Best Nickelodeon Game Shows (See Hunter Hayes as a Kid!)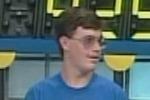 Reflection time: I used to hate the Nickelodeon game shows. I thought of them as filler between the dramas, the mysteries, even the cartoons. With 20 years of hindsight (oof!), watching just the theme songs of these game shows is enough to make me feel like a giddy little kid again.
OK! Old School: Watch Amanda Bynes' Funniest Moments!
Double Dare. This was an excellent combination of intelligent trivia game and grotesque sport. You know you're watching footage from the early 1990s if someone is sloshing through a fake food product while wearing primary colors.
Article continues below advertisement
Legends of the Hidden Temple. Again, a fantastic combination of intellectual challenge (you learned about history!) along with vaguely historical physical challenges. The finale challenge involved an obstacle course built inside essentially a giant dollhouse. And there were people hiding to come grab you! I had nightmares about the temple guards on the reg.
Guts. Before Glee came along, Mike O'Malley was known for one thing and one thing only—his hosting gig on a show that was basically the baby Olympics. This show was generally too intense and "real" in its athleticism for me, but spin-off Global Guts gave it an appealing international flair that was much more interesting than Model UN at the time.
In this clip, a kid from Israel wins a perfect score.
What Would You Do. Another show hosted by Marc Summers, this one played off the greatest instinct you have as a kid: to try weird things. Would you eat ice cream with ketchup? Would you mind if we flung a pie at your head? The simplest ideas are the most genius.
Wild and Crazy Kids. There is nothing more '80s than the opening music (and graphics) from Wild and Crazy Kids. This show consistently felt just like your recess or gym class, but with a higher production value. They played, like, Tug of War and Red Light, Green Light, but in giant teams with colored shirts on.
Article continues below advertisement
Figure It Out. This one aired much later, in the late '90s, and the modern sophistication is obvious. It rewarded children for being wildly talented, and made excellent use of celebrity panelists (before revolving American Idol hosts was a thing).
Here, we have future major country star and Grammy nominee Hunter Hayes playing the accordion at age 5.
What was your favorite game show on Nickelodeon? Did I forget one? Tell us in the comments below or tweet us @OKMagazine.