NEWS
OK! Old School: Innosense Is The Most Underrated Girl Group of All Time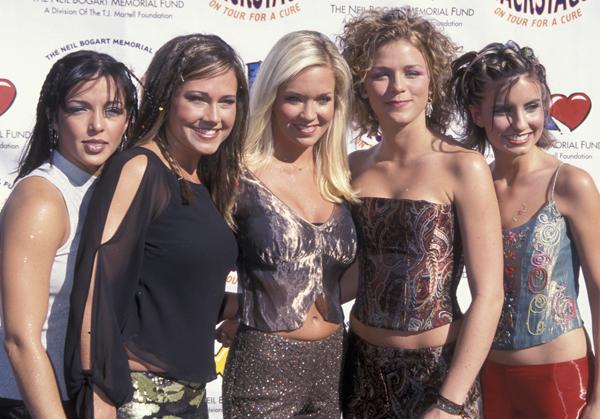 I love me some Danity Kane, Pussycat Dolls, Spice Girls, all of it. But there is one girl group that has gone way underrated and I feel it is my duty to bring this to your attention.
They are the ladies of Innosense.
Oh you remember them. They were essentially the female *NSYNC for many, many reasons. Jog your memory with their video for "Say No More":
radar_embed service=youtube src="//www.youtube.com/embed/K4oteDMFzn0" width="480" height="360"
Article continues below advertisement
The group consisted of Nikki DeLoach (current star of MTV's Awkward), Danay Ferrer, Mandy Ashford and Amanda Latona. Oh and at one point some girl named Britney Spears was in the group but left to have a solo career. Hope that worked out for her. (Innosense later opened for her and *NSYNC on tour.)
Photos: Behind the scenes at Supernatural
Britney was replaced by Veronica Finn who is rumored to have dated Justin Timberlake when they were like 14. I sometimes don't even count guys I dated at that age as real relationships but if it was him, I definitely would. Plus, Nikki dated JC Chasez back when they were both on the Mickey Mouse Club together. Adorable!
That's not where the connections end. Justin's mom Lynn Harless was their manager, and Mandy was recommended for the group by her high school friend Lance Bass. Plus, Amanda dated Backstreet Boy AJ McLean. Seriously why wasn't this the biggest girl group of all time? Their full length album So Together is on Spotify so you can put on some body glitter, take a listen and be transported right back to 2000. I recommend "Rain Rain" "You Didn't Have to Hurt Me" and "www.fan-ta-see" (not a correct website) just to hear what their answer to "Digital Get Down" sounds like.
Article continues below advertisement
Watch: Miley's SNL promos are here!
They had the look, they had the connections, they had the jams—why didn't we appreciate them more? I blame us as a society for not making sure they were number 2 on TRL everyday, right behind "Bye Bye Bye".
The good news is that Nikki is currently pregnant with a baby boy due this month, with her husband Ryan Gooddell, a former member of Take 5! This can only mean she is birthing a future boyband member herself.
OK! News: Be Taylor or Gaga for Halloween with these makeup how-tos
So if you feel like taking a stroll down nostalgia lane, this is a great album to pop in your CD Walkman while you walk. And really I just wish they were still around. We're in need of a great girl group in 2013!
Were you a fan of Innosense? What other opening acts did you see on tour with *NSYNC and Britney? Tell us in the comments below or on Twitter @OKMagazine.