NEWS
OK! Old School: Sloppy Joes, Gum, and Mary Kate and Ashley Olsen in 'It Takes Two'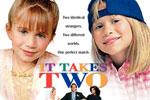 Identical strangers, sloppy joes, and a romantic runaway horse scene.
Mary-Kate & Ashley Olsen: A Love Affair With Outerwear
Mix the above ingredients together, add in leading roles played by MK&A and two pairs of 90s blue overalls, and you'll have one of my all-time favorite childhood movies. It Takes Two. This movie was made 18 years ago, (major gasps there, we know) but I'd still commit myself to watching the entire Mary Kate and Ashley flick if it was on. There's a hint to all you TV stations out there—I'm never mad at nostalgia!
Article continues below advertisement
OK! News: Rating Mary Kate and Ashley Movies
Because the famous twinnies turn 27-years-old today, I must recognize their superior performance in this crazy storyline by highlighting my favorite movie moments. Shall we begin? You got it dude!
Watch: Ashley Tisdale Answers Your Twitter Question
So most of you know the plot. Mary Kate and Ashley, who end up rocking matching "A" names of Amanda and Alyssa, play identical little girls who are not related at all. When I first watched this movie, I thought there would be some switch-up at the end where we find out that the girls are really related but one was just sent to London to live with her mom. But no, that was only in LiLo's Parent Trap.These two are complete strangers but manage to become besties and fix everyone's unknown problems, except that poor Clarice chick. It's really a shame she got gum in her hair.
Photos: Kate Middleton Christens a Princess Cruise Ship
Take a look at my favorite moments!
The scene where we meet Mary Kate's character is totally legit. She plays the tomboy (what a surprise) and is busy in a baseball game, giving all her friends and even Kirstie Alley a bit of 'tude. When they arrive at the Butkis' house, (you know, the people that want to adopt her) she spits her gum into Kirstie Alley's hand. I think I did that to my mom once, and I was yelled at. Alot.
Article continues below advertisement
It's like that scene in Elf. The ice cream/spaghetti creation is actually really odd, but for some weird reason, it looks delicious. Here, the kids at camp are demolishing the sloppy joes. Like, they're really enjoying this dish. I find it hysterical that Ashley Olsen's character never even heard of the meal.
This video also includes one of my other very favorite MK&A scenes. Clarice is trying to throw her swanky engagement party, and Amanda, who I believe is acting as Alyssa, has had enough. She throws her gum into Clarice's glass and answers her famous "Am I clear?" question with one solid word.
What's your favorite moments? Tweet @OKMagazine and leave a comment below.