NEWS
OK! Old School: Stephanie Tanner's Best Dance Moments on 'Full House'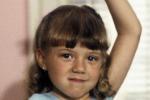 Jodie Sweetin, best known as Stephanie Tanner on Full House, is having a pretty crappy day. She just filed for separation from her third husband, after just over a year of marriage. They had a young daughter, Beatrix, together.
Photos: See the Full House cast reunite on Instagram!
I hope Jodie doesn't mind us cheering up with one of the best aspects of Full House—her character Stephanie's desire to be a professional dancer. It was such a recurring plot over the years that I'm guessing Jodie herself pushed for it. Watch her best moments here!
Article continues below advertisement
Even her dad Danny fantasized about Stephanie becoming a professional dancer one day.
Here's a really great running man move, paired with electric blue spandex leggings that I need like, yesterday.
Many years later, Stephanie transferred this love of rhythm to singing. Her terrible, terrible band performed this rousing rendition of "I Saw the Sign."
Who lets a seven-year-old dance in a self-choreographed number on live television? Danny Tanner. Also, "Love Shack" is a really provocative song, people. It's about orgies.
Speaking of provocative songs, some Internet genius has set the number above to Juicy J's song "Bandz a Make Her Dance," and it is perfection. Mesmerizing.
What was your favorite Stephanie Tanner dance number? Are there other daughter subplots from Full House that you can recall? Tell us in the comments below or tweet us @OKMagazine.