NEWS
OK! or Not OK! With Kourtney Kardashian & Hoda Kotb on 'Today'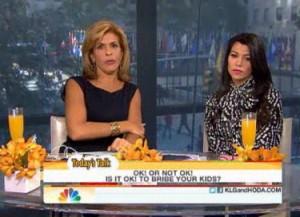 It's Thursday, which means the new issue of OK! is on newsstands, and the Today show's Hoda Kotb and Kourtney Kardashian (filling in for Kathie Lee Gifford) were on the air discussing Hoda and Kathie Lee's exclusive weekly column, "OK! or Not OK!." This week, Kourtney and Hoda talk about bribing your kids!
OK! COVER STORY: JENNIFER ANISTON — THE PHOTOS THAT SHOW SHE'S PREGNANT?
Kourtney weighed in on this week's OK! or Not OK!.
Article continues below advertisement