NEWS
OK! Real Life: Hiccup Girl: Is She a Killer?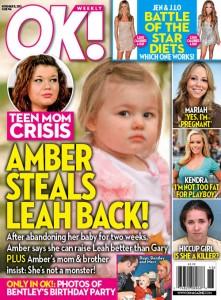 Jennifer Mee became an overnight celebrity when her constant hiccuping garnered attention from the Today show and other national media outlets. Now, only three years later, Jennifer is once again making headlines, but for nothing as innocent as a bad case of the hiccups. This week's issue of OK! looks into the former media phenomenon's current murder charge and the role her 15 minutes of fame played into this case of "Hiccup Girl" gone bad.
Article continues below advertisement
Jennifer, 19, met Shannon Griffin, 22, through a social networking site. Jennifer soon suggested they get together for a date, but when they met on Oct. 23 the night went in an unexpected direction. The young man was killed by three shots to the heart, an apparent victim of an armed-robbery plot hatched by Jennifer and two accomplices.
OK! NEWS: "HICCUP GIRL" JENNIFER MEE CHARGED WITH MURDER
The authorities have noted that while Jennifer did not handle the murder weapon, this in no way exempts her from a first-degree murder charge.
Jennifer shot to minor celebrity status in 2007 when she began hiccuping virtually nonstop in her high school freshman science class. People never expected to hear about "Hiccup Girl" again once the constant hiccuping stopped a few weeks later. Though, Jennifer's mother says the hiccups never did go away completely.
OK! REAL LIFE: JONBENET RAMSEY: WHAT THE POLICE KNOW
Jennifer's lawyer suggests they might be caused by Tourette's syndrome, a neurological disorder that can cause involuntary movements, but a definitive cause for her hiccups has yet to be found.
Article continues below advertisement
It's possible Jennifer's lawyer is planning on using Tourette's as a defense of her actions, though the controversy surrounding such a theory could draw even more unwanted negative attention to the case.
OK! REAL LIFE: JAYCEE RELIVES HER HORROR
"Let's make this clear, Tourette's disorder does not turn sufferers into homicidal killers," Tracy Flynn of the Tourette Syndrome Association tells OK!.
While this possible defense may be complicated, the crime was not. Police say that Jennifer lured Shannon to a St. Petersburg, Florida home where her boyfriend, Lamont Newton, 22, and his roommate, Laron Raiford, 20, lay in wait. They proceeded to rob Shannon using a .38-caliber revolver, stealing a meager $50, his wallet, cell phone and keys to his scooter.
OK! REAL LIFE: AMERICAN HEROES RESCUE CHILEAN MINERS
Mike Puetz, a St. Petersburg police spokeman, tells OK!, "Jennifer Mee has made admissions to her part in the event."
One can't help but wonder how Jennifer's former fame played into her current predicament. According to Jennifer's mother, Rachel Robidoux, her hiccup fame had a huge effect on her daughter's life. Rachel claims that Jennifer became "nothing but trouble" after the media attention started.
Article continues below advertisement
OK! GALLERY: ANGELINA JOLIE VISITS FLOOD VICTIMS IN PAKISTAN
The Today show sweetheart began leading a rough life after the attention faded. Jennifer fell in with the wrong crowd and called herself a "female version of a hustla" on MySpace. And while Jennifer doesn't have a prior criminal record, the police do have an account of about a dozen contacts with her over the past year, many where a former boyfriend had beat her up.
"Honestly, the best way I can describe it is that they call it a case of the hiccups," says Jennifer's mom. "But I call it the curse of the hiccups."
FOR MORE ON JENNIFER'S MURDER CHARGE, PICK UP THIS WEEK'S ISSUE OF OK! — ON SALE EVERYWHERE NOW!