NEWS
OK! Travel: Get Starstruck & Swept Away in the Windy City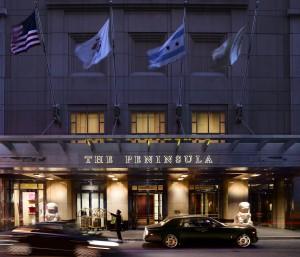 Want to book a last minute summer vacation? The Peninsula Chicago Hotel is celebrating its 10th Anniversary this summer, and has some serious ties to Hollywood! Care to find yourself in the middle of a battle of good versus evil? Transformers 3: Dark of the Moon was filmed on the streets of Chicago, and other action films are following suit. Travel, explore, and when you end the day exhausted, find your way back to The Peninsula for a good night's sleep.
Article continues below advertisement
Bright Lights, Big Windy
Three fingers of mouth watering cuisine, a bolt shot of granite-shouldered skyline, a dash of exclusive after hours jazz clubs, and a twist of renaissance art framed in modern museums, this strong drink is Chicago.
The city of broad shoulders is still growing up, and offers a great big bear hug after a boisterous fling.
Chicagoans look both ways when crossing Michigan Ave, and not just to catch Oprah or Vince Vaughn, anymore. With a shooting schedule hotter than Hollywood's, celebrity sightings in Chicago are like shooting fish in a barrel of luxurious spa's and decadent food complemented by mid-western charm. The Second City sincerely delivers first class.
Where to Stay?
Who wouldn't want to relax next to Beyoncé in the sumptuous Peninsula Hotel spa?  This 5 star fixture of the Miracle Mile offers guests celebrity treatment, and welcomes them into the lobby with floor to ceiling views of the city.
Make sure to get a 90 minute massage with Brenna, called "The Mankind". She uses aromatherapy body oils made by ESPA.  But if she's booked with Jennifer Hudson, chill out with a drink in the whirlpool, you may find Mister Beyoncé, Jay-Z, doing the same thing next to you.
Article continues below advertisement
Room rates start at $575 and Diva their way up to $8,000 a night for the 3,000 sq. foot Peninsula suite — Stedman not included. (VISIT peninsula.com)
OK! TRAVEL: STARS LOVE THE BAHAMAS!
Where to Eat?
If Chicago's mouth watering deep dish pizza is off limits, try The Peninsula's Shanghai Terrace. Make sure you go when Transformers 3 is shooting, since the Terrace is only open May through October. Their green tea creme brulee following Seafood Congee and organic rice would keep Megan Fox happy AND skinny.
If sophistication and white glove attention is what you crave, put Avenues in your GPS. Chef Curtis Duffy's 15 step king crab laced with tangerine, and his melt in your mouth Ohmi Gyu with braised short-ribs will make you think only Oprah could eat this well.
OK! TRAVEL: NEW HARRY POTTER FACEBOOK APP GIVES DIE HARD FANS A CHANCE TO WIN A TRIP TO THE UK
Another miracle on the Miracle Mile is The Lobby. The Restaurant's Chef de Cuisine Jonathan Kinsella is a regular at the Green City Market (Lincoln Park) hunting for the tastiest organic and sustainable crops. But be forewarned his Foie Gras Torchon may get you wondering what else is connected to your taste buds.
Article continues below advertisement
And sprint, don't run to Kinsella's "Chocolate at the Pen" an orgiastic buffet of chocolate set to Stephanie Brownings' live jazz trio.
Or visit the First Lady's favorite First Class eatery in the Second City, Sepia. This 19th century Print shop-cum-foodie-mecca offers a pork porterhouse that only the meatpacking history of Chicago and a mastery of meat could create. But OK!'s guessing Gwyneth Paltrow shows up at Sepia for the sea scallops with celery root puree.
What to Do?
Don't stop til you get enough should be da motto of Chicago. Soldier's and Wrigley Field, da Bulls and da Bears, sports and Chicago are BFFAE's. And if the roar of the crowd gets too loud, seek solace in the Art Institute's zero gravity wing, where the interior design entices you to float by Seurat's La Grande Jatte.
And if you think pointillism is just a fancy word for pixels, control-alt-go to the Museum of Science and Industry where the computer based imaging exhibit "The Tools of Science" might enlighten you.  And it's all "L" accessible, leave the rent a car at O'Hare.
Article continues below advertisement
OK! TRAVEL: STARS HIT THAILAND
Take a ride with Bonnie Kaplan and you'll find yourself on a shopping spree to make the Kardashians blush. No public transportation on Bonnie's thrill ride.  Just a full bar limousine ride to Brangelina's exotic gift store in the States, Primitive, a must buy homemade collection of Sandra Bullock's at Renegade Handmade, and a pop-up store only found on weekends, featuring designer Jodi Arnold.  (3-hour tour for 3, $1,250 visit Bonnie's Shop Party)
By Jaime Rabb and Eloise Parker