NEWS
OK! TRAVEL: 'The Tourist' Guide To Venice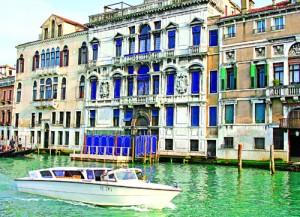 Angie & Johnny's Guide To Venice!
Angelina Jolie and Johnny Depp brought their families along for the ride while filming their new thriller The Tourist (in theaters Dec. 10) in Venice this past spring. "I wanted to do something that would be a great vacation for my kids," explained Angie, who stars as a cunning Interpol agent who seduces an unwitting tourist, played by Johnny.
Italy's unique floating city provides a dramatic backdrop for the ensuing action, which includes scenes among the water taxis and gondolas on the picturesque Grand Canal and the vast plaza of St. Mark's Square, where Johnny happily signed autographs for fans. "It's got lovely twists and turns, and good action and romance," Angie told Entertainment Tonight about the new flick — and the same can be said for Venice itself!
Article continues below advertisement
Angelina set up house with Brad Pitt and their six kids on the five-bedroom main floor of the lavish Palazzo Mocenigo, overlooking the Grand Canal. The rented waterfront property sits opposite the Palazzo Pisani Moretta, where Angie and Johnny filmed key interior scenes, allowing her to wave across the water to her kids between takes. Johnny and his family also stayed on the Grand Canal in the 26-room Hotel Palazzina Grassi, which boasts a luxe Philippe Starck interior just steps from the city's best museums. ()
Music fans should hit Hilton Molino Stucky Venice, which has hosted renowned bands including Pearl Jam and Oasis, and is close to Elton John's home, on Giudecca Island. Ben Affleck, Jon Hamm and George Clooney have all stayed nearby at the Hotel Cipriani during the annual Venice Film Festival. George is still a regular at the hotel's Gabbiano Bar. Head barman Walter Bolzonella still serves the "Buona Notte" cocktail he created especially for George to celebrate the actor's 2005 movie Good Night, and Good Luck. (hotelcipriani.com)
During their downtime, Brad and Angie enjoyed a romantic date night at the Cantine del Vino Gia Schiavi in the artsy Dorsoduro district. Angie ordered "cicchetti" (Italian tapas), while Brad selected wines. "He's the wine expert," notes the restaurant's sommelier, PaoloGastaldi. Ice cream was on the menu when the entire family visited the Gelateria Lo Squero in San Trovaso Square. "They pointed out the gondolas to the kids, but they were too engaged with ice cream to notice," laughs Beatrice Zennaro, who served the Jolie-Pitts. The couple also explored Giudecca Island with their eldest children, Maddox, 9, Pax, 7, and Shiloh, 4, arriving by private water taxi to feed the ducks.