NEWS
OK!'s Fashion Week Blog: Adam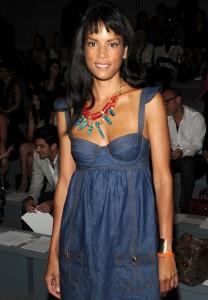 OK!'s got you covered on everything that goes down during fashion week in NYC! Today we hit up Adam's runway show for a sneak peek at the designer's spring collection.
SHOW: Adam
WHEN: Sept. 11, 2010
WHO: Veronica Webb
FOR ALL OF OK!'S NYC FASHION WEEK, CLICK HERE!
FASHION: This season Adam seemed to play a lot with promotions. On the runway we saw long high-waisted flared trousers paired with tiny cropped blouses just skimming the waistline of the pants. It was also all about the color rust this season amongst a palette of soft pastels. This collection was both strong and feminine, mixing very structured elements with delicately detailed fabrics.
Article continues below advertisement
BEAUTY: Although the top knot was all the rage throughout this summer it was still going strong on Adam's Models today. A very fun and playful up-do for both day and night.
OK!'S FASHION WEEK BLOG: CYNTHIA ROWLEY
COLOR/OVERHEAD: Before the show, Michael Jackson and the Jackson 5 played getting everyone in a great mood.
By Meghan Gerard