NEWS
OK!'s Fashion Week Blog: Rebecca Taylor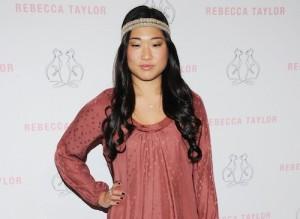 Can't make it to NYC for Fashion Week? Don't worry, OK!'s got you covered! Today we hung out at the Rebecca Taylor runway show for a sneak peek at the designer's spring collection and loved every minute!
SHOW: Rebecca Taylor
WHEN: Sept. 12, 2010
WHO: Carmen Electra, Jenna Ushkowitz, Shenae Grimes, Michelle Trachtenberg, Loise Roe, Nicola Peltz and Ramona Singer
Article continues below advertisement
FASHION: In true Rebecca Taylor fashion, the dresses that hit the catwalk were the WOW factor of her collection. Long, shear skirts paired with structured trench coats created a juxtaposition, combining soft femininity with a more tailored and structured feel. The color palette for the collection ranged from pale pinks and greys to bright blues and olive greens. "I started with a 1970s Charlie girl," Rebecca told OK! backstage before the show. "I managed to do femininity in such a sensual, sexy way." A number of gorgeous tiered, maxi dresses ended the show. Silk and cotton were the main materials used to create the flirty, feminine line.
OK!'s FASHION WEEK BLOG: Z SPOKE BY ZAC POSEN
BEAUTY: Models looked ephemeral, like whimsical fairies gliding down the catwalk. Hair was swept up in loose buns, and the models sported a neutral cheek and lips. The emphasis was placed on a soft, brick red based smoky eye.
COLOR/OVERHEAD: Rebecca' certainly has a strong Hollywood fan base, but the modest designer loves to create beautiful, wearable clothes for all women.
Article continues below advertisement
Her proud family, including her two young daughters, sat right in the front row cheering her on as the beautiful looks hit the catwalk.
Rebecca dressed casual for the event, but was sure to add a little bit of shine do her look.
"I always like to wear some sparkle no matter where," the designer, who donned midnight blue sparkling oxford shoes, told OK! of her style mantra. "I think you need to always find the sparkle in the everyday."
Jenna Ushkowitz ouldn't have been happier with her seat in the front row, and the show marked Jenna's first time ever at Fashion Week!
"It's just so dainty and sweet," Jenna who wore one of Rebecca's frocks told OK!. "It's so girly and lovely and you just feel great in it. And it's comfy too."
Jenna added a beaded and sequin headband to her look.
Article continues below advertisement
"I'm trying to bring the head bands back," she said.
Michelle Trachtenberg and Shenae Grimes are regulars at Rebecca's show and the duo happily chatted with one another before the show began.
The City star Louise Roe accessorized her black Rebecca Taylor one shoulder mini with a brown belt and had from Top Shop.
"I think she celebrates curves. Her dresses are very friendly to a coke bottle-esque silhouette, also bright colors frills, feminine and elegant but still sexy," Louise told OK!. "A lot of designers are androgynous or very edgy and quite hard to wear, but with Rebecca's stuff every women can wear something from her collection and feel sexy in it."
Real Housewife of NYC Ramona Singer sported a leopard sweater by Rebecca that actually belonged to her daughter.
"I love her dressed for work because they look professional but have a sexy edge," Ramona told OK!.