NEWS
OK!'s Favorite Pop-Culture Moments from Boston—What Are Yours?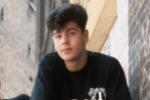 It's difficult to think about anything other than what happened in Boston yesterday, and talking about it isn't much easier. As we continue to wait on more information, we send our love to Boston and ponder it the best way we know how right now: by remembering all the amazing portrayals of Boston and the many pop-culture gifts the city has given us.
Boston's Hilarious Comedians
Boston had bred some of my favorite funny people, like Mindy Kaling, Conan O'Brien, Amy Poehler, Louis C.K., Steve Carell, and Rachel Dratch, to name a few. So really we owe it to Boston for making us double over time and time again.—Emily Kanoff
Article continues below advertisement
The Social Network
The Oscar-nominated film will always be one of my favorites, partly because of its amazing cast (Jesse Eisenberg, Andrew Garfield and Justin Timberlake), but also because I love Facebook and seeing how it changed so much from its creation in 2003 at Harvard to now is pretty cool to watch.—Haley Longman
Boston Rob from Survivor
"It doesn't matter how many times the charming Boston Rob appears on Survivor, he'll always be one of my faves. He's got the cutest Boston accent I've ever heard, and his proposal to Amber could win awards."—Victoria Moorhouse
"America has loved them for 25 years. People don't give them nearly enough credit for that! This video of them at a high school in Cape Cod circa 1988 is amazing."—Kaitlin Menza
"Their music rocks me to my soul—and I know their fans, especially those who have followed them since their early days on Commonwealth Avenue—feel the same."—Lauren Brown
We're collecting readers' favorite Boston moments in pop culture. Share your favorites in the comments below and tweet us @OKMagazine.