NEWS
OK!'s Greatest Splits Collection: 13 Breakups That Rocked 2009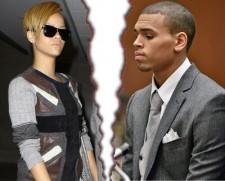 The biggest break-ups of 2009 had some tragic endings, but some were for the best! From Jon Gosselin and Kate Gosselin having to explain to eight kids that they're getting divorced, to Rihanna and Chris Brown breaking up for a very well-known and unfortunately violent reason, 2009 had its share of big break-ups. Take a look back on the year in splits with OK!.
Biggest Reality Split: Jon & Kate Gosselin
Article continues below advertisement
After 10 years and eight kids, Jon and Kate announced they were going their separate ways on their TLC show and became officially divorced on Dec. 18. Jon and Kate made even more headlines as they took their private battle public on every possible show, from Today to Larry King Live. Now that they've finally split for good, let's hope the drama has ended for the kids' sake.
Most Shocking Split: Rihanna & Chris Brown
Chris pleaded guilty in court on charges of assault after he admitted he violently assaulted Rihanna in the front seat of his car in L.A. on Feb. 8. He was sentenced to five years probation and 180 days of community service. Needless to say, the couple are no longer seeing each other (in fact, he's not even allowed within several yards of her for the next few years), but for a little while there last spring — when RiRi and Chris were hunkered down together inside Diddy's home — it looked like they might actually reconcile. Thankfully, cooler heads prevailed and Rihanna is now free of Chris.
Article continues below advertisement
Most Surprising Split: Susan Sarandon and Tim Robbins
Right at the end of 2009, one of Hollywood's longest-running relationships came to a sudden end after 23 years when Susan and Tom announced right before Christmas that not only had they broken up, but they'd done so months earlier. While they never married, the couple had two children together and raised Susan's daughter Eva Amurri. They met on the set of baseball flick Bull Durham.
Worst-Timed Split: Jessica Simpson & Tony Romo
Tony might have decent timing with his Dallas Cowboys receivers on the field, but the quarterback cutie picked the exact wrong moment to dump J.S imp when he broke up with the singer on the eve of her 29th birthday. Jessica had planned a "Barbie and Ken"-themed party, but it fell through once her Ken doll checked out.
Most Costly Split: Madonna & Guy Ritchie
Article continues below advertisement
Their nearly eight year marriage ended on Jan. 20. Since the couple was one of the wealthiest their divorce was one of the largest in financial terms.
Most Hoped for Break-Up: Kristen Stewart and Michael Angarano. It was "are they or aren't they" for a long time, but eventually Michael dropped out of the picture sometime in May after a five year relationship with the Twilight star. Twi-hards couldn't have been happier!
Toughest Split: Hulk Hogan and Linda Hogan. After months of fighting, the couples reached a divorce settlement last summer. Hulk and Linda had been married for 24 years before it came to an ugly end.
Most Major Break-Up: Kate Hudson and Alex Rodriguez.
While we're still waiting confirmation it seems the actress and the athlete have broken up. Rumors abounded after the NY Yankee MVP was spotted out partying with women other than Kate in Miami. It's too bad Alex wasn't there to support Kate during her Nine premiere like he supported her throughout the World Series!
Article continues below advertisement
Saddest Separation: Reese Witherspoon and Jake Gyllenhaal.
After a two year relationship this cute couple split in December. At least we can be thankful that it appears to have ended amicably.
Most Expected Break-Up: Jennifer Aniston and John Mayer.
They've been on and off for so long, but for now it seems they are just off. With Jen seeming like someone who might be ready to settle and John feeling he should be sleeping around even more the outlook didn't look good.
Most Repetitive Break-Up:Lindsay Lohan and Samantha Ronson.
At least for now this couple is done, but you just never know with these two ladies! They may fight all the time, but they must be making up a lot too!
Most Complicated Split: LeAnn Rimes and Dean Sheremet/ Eddie Cibrian and Brandi Glanville.
After LeAnn and Eddie met on set of their Lifetime film, the couples left their marriages after their reported affair and in October they went public with their relationship.
Most Out-of-Sync Split:Karina Smirnoff and Maksim Chmerkovskiy.
The Dancing with the Stars team had the choreography, but were off on the timing. The engaged couple called it quits in September and not long after. an ugly battle between the two ensued when Karina was paired with Aaron Carter on the show!