NEWS
OK!'s Idol Roundtable: Anoop & Diana Talk Results!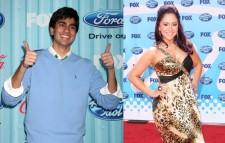 Of the more than a million people across the country who have auditioned for American Idol, only a few dozen know what it's truly like to live the Idol life. And that's why OKmagazine.com brings you Idol Roundtable, where this week, former finalists Anoop Desai and Diana DeGarmo will share their insider insights on the new season.
OK! NEWS: AMERICAN IDOL RECAP: TOP 12 DISAPPOINT JUDGES
In light of an impending results show tonight, we asked our experts what they thought of last week's first result show of Season 9 where we said goodbye to four of the top 24.
Article continues below advertisement
So how did our panelists feel that Janell, Ashley, Tyler and Joe were the ones to get the boot?
"I really wasn't surprised," Anoop admits to OK!. "You've either got to make an immediate impact or be a favorite going in to thrive in the early rounds. Unfortunately, none of those contestants did that. And, as always, the judges' comments have a lot to do with how America votes."
"It's hard to say if they could have done anything better," he adds. "Those first rounds are so tough because of nerves, getting used to hearing the band live, etc."
OK! NEWS: SIMON COWELL IS ENGAGED TO MEZHGAN HUSSAINY
For Diana, results night was always stressful no matter what stage of the show.
"Every point of the show is important and one step closer to that title of THE NEXT American Idol. So, every single results night is full of tension," Diana shares with OK!. "As we have seen from past seasons, no one is ever truly 'safe' so you're on pins and needles each week!"
Article continues below advertisement
Anoop wouldn't necessarily agree.
"After a while, you get a little numb to the whole results night drama," he explains to OK!.
OK!'S IDOL ROUNDTABLE: BREAKING DOWN HOLLYWOOD, PART 1
The top 24 results show also brought back Kris Allen and Allison Iraheta to the stage.
Anoop thought Allison's performance of "Scars" was, "Brilliant, as always. I wish they wouldn't have mixed her vocals on TV as if she were a contestant, though."
Article continues below advertisement
So what does our panel think each contestant should try to focus on this week?
"As simple as it sounds, each contestant needs to play to their strengths," Anoop advises. "At this point in the competition, you just need to be singing well each week. Pick a song that you know you can shine on and you love. If you're in the zone, people will feel that."
Check back next week for more from OK!'s American Idol panelists!