NEWS
Old Spice Guy Cast in Jennifer Aniston Movie 'Horrible Bosses'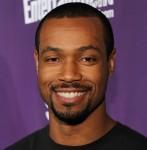 Jennifer Aniston is about to get a whiff of the man your man could smell like: The Old Spice Guy has been cast in her new flick with Jason Bateman, Horrible Bosses.
So what kind of part will Isaiah Mustafa — the face of Old Spice body wash, and the reason sales have soared by 107 percent — play in Jen's new comedy?
OK! VIDEO: THE OLD SPICE GUY OUTDOES HIMSELF
"It's a smaller role, but who wouldn't want to be in one of these funny, irreverent comedies? The cast is great," he tells The Hollywood Reporter.
Article continues below advertisement
"I'm playing a cop because I play these authoritative characters well. I don't know exactly who I'm in the scene with — maybe Jennifer Aniston!"
OK! VIDEO: JASON BATEMAN & JENNIFER ANISTON MAKE THE SWITCH
Meanwhile, Isaiah has also signed a talent deal with NBC, beginning with a guest role on Chuck. "I don't know how many episodes yet, but I do know I'm playing an official CIA guy (named Greta)," he says. "The character is pretty goofy, so it's going to be fun."
With the Old Spice commercials viewed 58 million times on YouTube, can we expect anything else from the Old Spice Guy? "As far as commercials, I don't think there are any more lined up," he says.
OK! NEWS: AARON ECKHART ON JENNIFER ANISTON'S SIGNATURE "SWEETNESS & INNOCENCE"
"They could always change their mind and want more. I signed on to be their spokesperson for a year, so I still have a few months left."
Article continues below advertisement
Although he plays a practiced seducer in the ads, in reality Isaiah is a one-woman man, dating dancer Brandi Oglesby. "No, I'm not one of those guys," he says. "If a woman is into me, it usually takes me a while to figure that out. She has to hit me over the head with it."
OK! NEWS: JERSEY SHORE CAST GIVES GLIMPSE INTO THEIR TEEN YEARS
And how does Isaiah maintain those abs? "I've been doing Tony Horton's DVD sets for three years. Right now, I'm vegan-cleansing: no processed sugar, no caffeine, no alcohol, no animal products and no gluten. I never knew what gluten was before. Now I know exactly what it is, and it's everything I want!
But he denies sizing himself up against The Situation. "No, please. The Situation is the best thing in the world," he says.
OK! NEWS: JERSEY SHORE CAST GETS A HANDLE ON THE ECONOMIC SITUATION
"Who names himself The Situation? If only the Old Spice Guy would have thought of that one. How outrageous is it? I do not take myself seriously like that — not in the least bit — that would be so pretentious."